The Road Safety Authority has called on drivers to act responsibly and not to be tempted to drink and drive over the festive period.
Today it launched a six-week Christmas and New Year road safety enforcement campaign at Garda Headquarters in Dublin.
One in four drivers admit to driving over the limit the morning after.
"The morning after is a real danger zone for drink driving," said Road Safety Authority CEO Sam Waide.
"A previous analysis of An Garda Síochána investigation files for fatal collisions by the RSA, shows that 11% of fatal collisions, in which a driver had consumed alcohol, occurred between 7am and 11am."
Gardaí will start the enforcement campaign from this weekend and will be conducting mandatory intoxicant testing checkpoints around the country.
"We will also be targeting other lifesaver offences, including speeding, not wearing seat belts and mobile phone use by drivers," Deputy Commissioner Ann Marie McMahon said.
"Members of An Garda Síochána will also focus on unaccompanied driving by learner drivers.
"Research published by An Garda Síochána and the RSA shows that over the last five years there were 83 fatalities and 709 serious injuries over the Christmas and New Year period.
Men accounted for almost seven out of ten fatalities.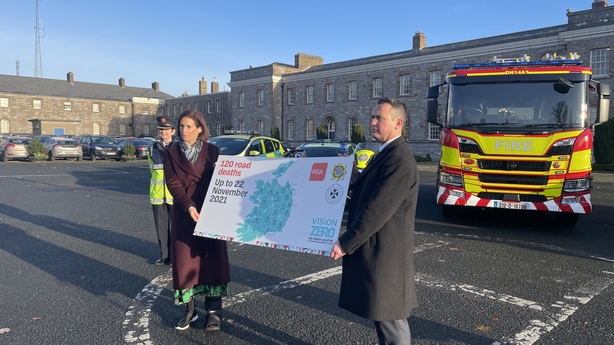 Almost 4,500 drivers have been arrested for drink driving this year to date, while just over 3,300 have been arrested for drug driving.
Professor Denis Cusack, Head of the Medical Bureau of Road Safety, said that while detection of drug driving has increased substantially in recent years, alcohol remains the most common intoxicant detected in drivers.
"While all age groups (drivers 16-83 years old) are well represented in drink driving detections, most arrests for drink driving in males is evenly spread across the late teen to mid-40 age categories, while female arrests peak in the 35 to 44 age group," Prof Cusack said.
"Drink driving is not going away and detection of it has increased."
Drivers are also being reminded that the Coca Cola designated driver campaign is running again this year.
The scheme offers free soft drinks and water to anyone acting as a designated driver on a night out with friends or family.