Thousands of new parents have been living without vital State financial supports such as child benefit for up to five months, because the cyber attack on the Health Service Executive in May has meant they have not been able to register their child's birth.
The HSE and Department of Social Protection confirmed the situation as a leading family support group said "you can't get supplementary welfare allowance for a child that doesn't legally exist".
On 14 May, the HSE was targeted in a major cyber attack which crippled the health service and forced related IT systems to be shut down.
The incident - which was the biggest cyber attack in Ireland's history - caused significant disruption to the HSE until early July as computer software vital to how the service operates was severely compromised.
The vast majority of issues have now been resolved. However, the impact of the attack is still being felt across the country, including by new parents.
Health officials were unable to register the birth of newborns between May and July on their systems, resulting in an unprecedented backlog, which in mid-summer stretched 16 weeks.
The situation was further impacted by Covid-19 restrictions, which had closed local walk-in civil registration offices until early October.
And although the HSE said the average delay has now been cut to eight weeks, the situation has stopped thousands of new parents from being able to receive Children's Allowance because their child's birth is not officially recognised by the State.
Speaking in RTÉ's Morning Ireland, CEO of One Family Karen Kiernan said the issue has been caused because the delays mean any child involved legally does not exist until their birth is officially registered.
"We started to get calls to our helpline during the summer from parents who weren't able to get their children's birth registered.
"The reason they were told this was happening was due to May's cyber attack on the HSE, and the HSE trying to catch up on all of those birth registration problems. So that's where it originated, there are still delays.
"The reason people were ringing the One Family helpline was because they were absolutely stuck [and], we'd like the HSE to prioritise those parents who need the PPS number now to support themselves and their child, because you can't get supplementary welfare allowance for a child that doesn't legally exist," she said.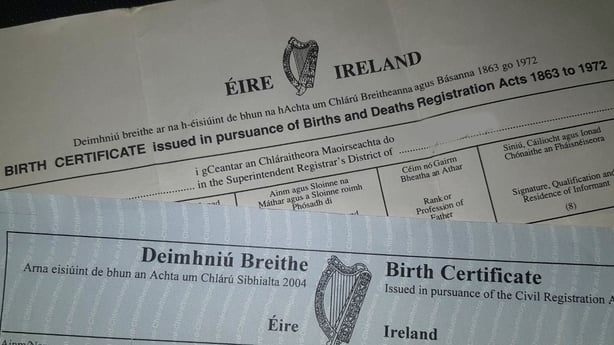 One family affected is Alison and Stephen McCabe and their son Finn, who are from Clonsilla in Dublin.
Finn was born on 1 June, but his parents are still waiting for his birth certificate.
"Between Covid and the cyber attack, everything [in the system] was kind of delayed," Alison explained.
"Three four months passed and we still hadn't heard anything, so I sent an e-mail. Somebody got back to me to say the original application had been lost. I was told then the birth certificate would be up to 30 working days, which would mean he would be probably about six months old by the time we get a birth certificate for him.
"It impacts on a lot, we can't apply for his GP visit card, we can't get a passport, we can't get his baptism cert, we can't get his children's allowance, it's a lot of chasing, which you don't need when you have a baby and a toddler, it should just kind of be straightforward.
"In November I'll start my unpaid leave, so having the child benefit to get those essential things that Finn needs, every little bit will help," she said.
Another family facing the same situation are Dublin-based Natasha Glumicic and her partner Ruairi, who have been waiting for four months for their son Liam's birth to be registered.
"A couple of days after arriving home we completed the online forms to register his birth. Fast forward to October and we still had no information and no birth certificate. I decided to call but I got an automated message saying they were receiving a lot of calls and they can't accept any more calls, and the line was disconnected.
"Now the reason I wanted to get his birth certificate is so I could apply for his passport and go see my family in Croatia, I might not be able to go, this was quite upsetting," Natasha said.
Limerick couple Rachael and David Bermingham's daughter Mairead was born in early August.
"We knew their might be some delays in getting her birth certificate, however we didn't think it would take the time or the effort it ended up taking.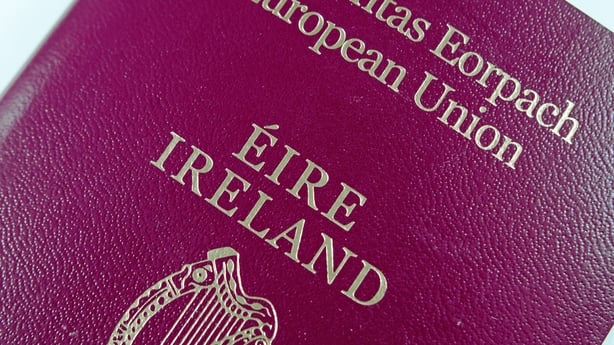 "It meant for two months I was without a PPS number for her, no child benefit, no GP card, and we couldn't apply for an Irish passport or her US passport. We are lucky that we don't depend on those child benefit payments, but other families are not so fortunate," Rachael said.
In a statement to RTÉ, the Health Service Executive said while May's cyber attack has caused significant problems for the system, the reopening of local walk-in civil registration offices in early October after Covid-19 restrictions were removed means average birth registration delays for thousands of babies born since mid-May are falling.
The HSE said while delays stood at a high of 16 weeks in the worst affected counties of Dublin, Kildare and Wicklow in mid-summer, the average wait time is now eight weeks.
However, separate parliamentary question response figures given to Social Democrats TD for Wicklow and the party's spokesperson on Children and Youth Affairs Jennifer Whitmore, show that at the start of October delays still ranged between three and 11 weeks.
---
Deputy Whitmore's figures say that at the start of October, the average county by county delays were:
Dublin - 11.3 weeks
Monaghan - 11.1 weeks
Cavan - 10.9 weeks
Louth - 8.7 weeks
Kildare - 8.6 weeks
Leitrim - 8.6 weeks
Wicklow - 8.3 weeks
Roscommon - 7.7 weeks
Kerry - 7.4 weeks
Meath - 7.1 weeks
Offaly - 6.7 weeks
Limerick - 6.1 weeks
Sligo - 6.1 weeks
Clare - 6 weeks
Mayo - 5.6 weeks
Westmeath - 5.6 weeks
Longford - 5.3 weeks
Laois - 5.1 weeks
Kilkenny - 4.9 weeks
Galway - 4.7 weeks
Tipperary - 4.7 weeks
Carlow - 4.6 weeks
Donegal - 4.3 weeks
Waterford - 4.3 weeks
Cork - 4.1 weeks
Wexford - 3.6 weeks
---
In a statement, a spokesperson for the Department of Social Protection said while officials understand the concerns they cannot provide financial supports to families until the HSE has registered the birth of a child.
However, the spokesperson said once this happens, the department has committed to providing these supports within two weeks, and will back-date the move to include all unpaid financial aid.
"The cyber-attack on the HSE has had a significant and continuing disruptive effect on many of its medical and non-medical services, including the information systems used by the civil registration service to register birth certificates.
"In order to trigger entitlement to child benefit, the child's birth must first be registered by the HSE. This will then automatically trigger the allocation of a Personal Public Service Number (PPSN) to the child. A PPSN cannot be allocated until the birth is formally registered by the HSE.
"Following allocation of the PPSN, the department automatically invites the parents to apply for child benefit, in the event that the child is the first born to the parents, or an existing child benefit claim is adjusted where the benefit is already in payment.
"The Department of Social Protection promptly processes child benefit claims once the child's birth has been registered by the HSE.
"Affected parents will receive their full entitlement to child benefit following the formal registration of their child's birth by the HSE - the current turnaround time is in the region of two weeks," the spokesperson said.