The public has been urged not to respond or engage with scam texts, phonecalls or emails seeking personal information, following a recent rise in fraud cases.
The Minister for Justice today said that no government department will ever contact members of the public seeking their PPS numbers or bank details and said that the message for people receiving such messages is "ignore, ignore, ignore".
Heather Humphreys was speaking at the launch of a new campaign to raise awareness of cyber crime.
The campaign, which will be run by the Garda National Cyber Crime Bureau and the Department of Justice, will see gardaí engage with communities in a series of events nationwide to provide information on how to protect yourself from these scams.
Data from the CSO crime statistics for this year show a 40% increase in fraud offences in the year to June 2021, compared to the previous year.
The increase mostly occurred in the first six months of this year and primarily relate to fraudulent attempts to obtain personal or banking information online or by phone.
Older people and businesses in particular are being targeted in this initial phase of this awareness campaign.
Speaking at the launch of the campaign, Minister Humphreys said that all of us have received these "strange phonecalls and text messages" in recent months.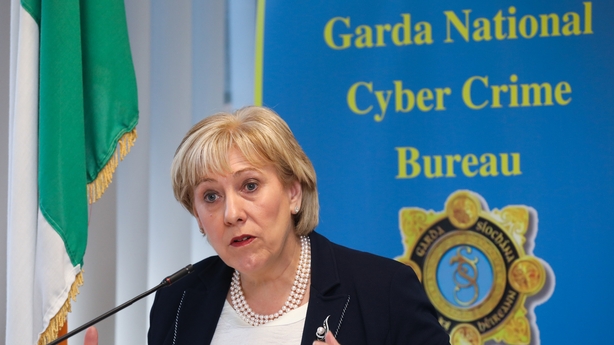 She said they can be sophisticated and it can be easy to be scammed out of significant amounts of money.
Minister Humphreys said the key message for everyone, but older people and businesses in particular, is "do not respond, do not engage, and do not give any personal or financial details".
Assistant Commissioner John O'Driscoll said cyber crime poses a threat to every computer user.
He said that so far in 2021, incidents of computer interference have increased by over 150% with similar levels of growth in "cyber enabled crimes" like online fraud and exploitation.
"Our advice is don't respond to unsolicited emails or links; Don't share personal information online and always have a secure and separate backup of your computer systems," he said.
The Minister for Justice said gardaí are engaging with the telecommunications companies to see how they can make further progress to ensure these types of instances don't happen, but she said a lot of them originate outside the country.
Small and medium business owners are also being urged to be vigilant to these scams.
Minister Humphreys said anyone who falls victim to cyber attack should report it to gardaí, and all businesses should take steps to protect themselves online.
She referenced the large-scale attack on the HSE this year, but warned that criminals also target small and medium businesses too, which can have serious financial and reputational consequences.
We need your consent to load this rte-player contentWe use rte-player to manage extra content that can set cookies on your device and collect data about your activity. Please review their details and accept them to load the content.Manage Preferences
Head of the Garda National Cyber Crime Bureau, Detective Chief Superintendent Paul Cleary, said there has been a significant rise in cyber-crime over the last 18 months and a huge increase in scam text messages, calls and ransomware.
Speaking on RTÉ's News at One, he said the new campaign aims to raise awareness and reassure people that they can keep themselves safe online.
He said the victims of cyber-crime range from largescale critical infrastructure, such as the HSE, to large and small businesses, to individuals working at home or online banking and shopping.
Det Chief Supt Cleary said the campaign will focus on a different theme each week as part of the European Cybersecurity Month.
CEO of ALONE Seán Moynihan said anyone who is vulnerable to crime off line is also vulnerable to crime online.
He welcomed this new campaign and said if you get a scam phonecall or text, "don't engage with it".
He said the State, gardaí, social protection or banks will not seek your private details.
He also urged people to report the crime to gardaí if they fall victim to a scam.
Mr Moynihan said ALONE has had contact from a lot of older people who have fallen victim to such scams.
"Some people are slightly embarrassed and ask how did I fall for this, or why did I respond to that?"
He added that other people are worried and concerned about increased contacts.
"They say I keep getting phone calls from this number, I think it might be my bank or it might be this, and what we are saying is no, don't engage."
He said people should not feel embarrassed and should come forward.
"If we don't come forward and share the information with the guards then they don't have the intelligence to respond and that's what this initiative is about."