A new exhibition mapping Ireland's geology has opened at the National Museum of Ireland at Collins Barracks.
'Down to Earth' is a collaboration between the museum and Geological Survey Ireland.
It centres on a large floor map showing the variety of rocks and other minerals that determine our landscape.
Dr Siobhan Power of Geological Survey Ireland said the exhibition marks its 175th anniversary and showcases how knowledge of our geology and mapping techniques have changed in that time.
She said what was once basic mapping of minerals and rocks has evolved with the use of satellite data, drone technology and sonar mapping of sea beds.
It also aims to get the public thinking about mineral resources and how they are used in every day life.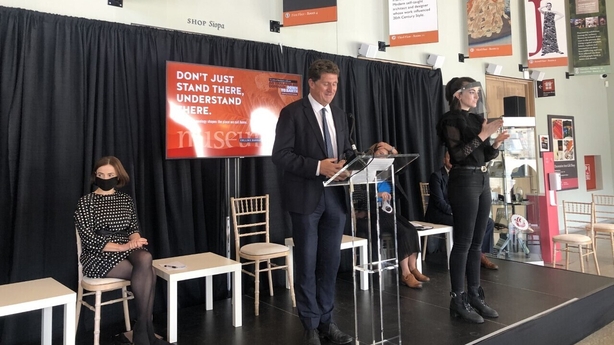 "We wanted to show that stuff is made of stuff. If you can't grow it, it must come from the earth. We live on the earth, from the earth and of the earth and we wanted to show we need the minerals of the earth for all our activiites - transport, energy, mobile phones. There are up to 60 minerals in any phone and we wanted to bring this to the public," she said.
The effects of climate change also feature in the exhibit, and Dr Power said that the work of geologists can help to identify areas vulnerable to coastal erosion, flooding and landslides and help us to be better prepared.
"It's going to happen, but if we can have an understanding of rates of change and areas of change we can know where to target," she said.
The Keeper of Natural History in the National Museum of Ireland said that this exhibition is a departure in terms of subject matter for the museum.
Nigel Monaghan said he has been curating rocks, minerals and fossils for 40 years and there are many collections that are not often seen.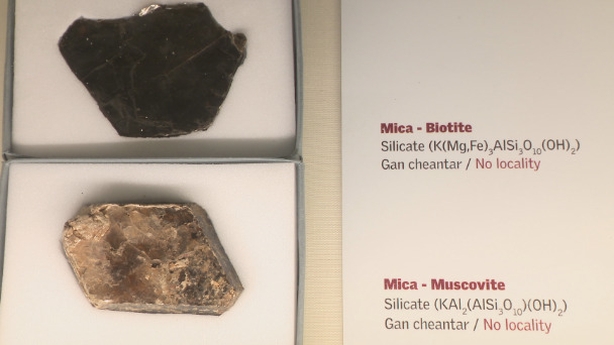 Some of the most topical exhibits include the minerals Mica and Pyrite, which have hit headlines due to the extensive damage caused to peoples' homes and their campaigns for redress.
People will have a chance to see what these minerals look like in their pure forms.
"In some ways they are very valuable resources, but in the wrong places, they are really bad for your building. So it's very important to understand raw materials, that's why we have collections of tens of thousands of specimens," Mr Monaghan said.
The exhibition was opened today by Minister for the Environment, Climate and Communications Eamon Ryan.
Geologists are in a unique position to understand the scale and significance of climate change and its effects over time, said Mr Ryan.
"Our geologists also play an important role in helping us find solutions, including mapping the seabed which will help us prepare for the development of offshore wind. This exhibition is an example of the wonderful work Geological Survey Ireland does to help us understand our natural history, and how it shapes our lives," added Mr Ryan.