There was a reduction in the number of people who contacted the Dublin Rape Crisis Centre last year due to Covid-19 restrictions.
According to its latest annual report, the DRCC said many callers could not access the national helpline in privacy.
There were 13,438 contacts to the national helpline in 2020, compared to 14,159 in 2019. In 2018, there were 13,367 contacts.
The DRCC said some people could not call safely because they were confined in the same space as their abuser or former abusers.
For others, the needs of family or friends in a time of crisis came first and, according to the report, they felt they had to postpone their own need for support.
Of those who disclosed the nature of the abuse in 2020, 49% related to rape, followed by child sexual abuse at 27% and adult sexual assault at 10%.
The largest age group to contact the organisation were between 50 and 59 and they formed almost 23% of contacts.
Sexual harassment was cited by 1.5% of those who contacted the national helpline.
The total number of first-time contacts was 6,451, just over half of the total.
The DRCC said that 83% of callers were women, 16.8% were male and 0.2% identified as other. The busiest months were January (817 contacts) and July (611 contacts).
Last year, the organisation developed its website to support more digital contact and launched an online webchat.
Accessible via the drcc.ie website, it links people seeking support via online text with a counsellor. The service, which initially operated on a limited basis, expanded to five mornings a week.
Staff underwent formal training on how to respond effectively to service users through written communication, as opposed to spoken communication.
For those who have experienced the trauma of sexual violence and feel unable to speak about what happened to them, webchat can allow them to communicate their trauma, and to seek help without having to verbally articulate their needs.
It has also provided a method of communication for people who do not have private space to speak.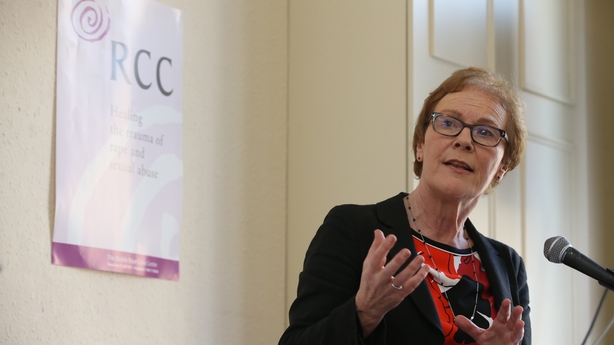 Demand for the service is currently being monitored and will be expanded according to need and resources, according to the centre.
One-on-one counselling and therapy sessions were delivered to 6,010 clients.
Counsellors and therapists had never seen such levels of stress and anxiety, according to the DRCC's CEO Noeline Blackwell.
Coinciding with the launch of its annual report this morning, DRCC will launch a video on consent aimed at young people.
It seeks to normalise consent in interactions to prevent sexual violence.
Speaking on RTÉ's Morning Ireland, Ms Blackwell said it is a "myth" that rape and sexual violence is linked to alcohol and to "Saturday nights".
She said many of those who suffered emotional and psychological damage as a result of sexual violence had that added to by the impact of the pandemic and that many assaults continued to happen where the abuser was a family member or an intimate partner.
---
The National Helpline 1800 77 8888 is a free and confidential listening and support service for all people who have been raped, sexually assaulted, sexually harassed or sexually abused at any time in their lives.
The DRCC also takes calls from people who have been affected by sexual violence, including families and friends of victims/survivors and frontline personnel who must support victims/survivors in the course of their work.