Thousands of international students are calling for their visas to be extended because they have not been able to fullfil "a vital part" of their reason for studying in Ireland - the chance to work in graduate level employment.
The Third Level Graduate Programme allows Irish educated non-EEA graduates remain here after their studies, for the purpose of seeking graduate level employment. The graduates are generally permitted to work here for between one and two years.
More than 16,800 people are on a Stamp 1G or graduate work visa.
During the pandemic fewer companies were hiring and many graduates have ended up in unpaid jobs, frontline services, and in positions they are over-qualified for.
Suchita Rani from India saved for 10 years to study for an MBA in Ireland. Her visa expires in October but so far she has "just picked up odd jobs".
"I've been temping, working in reception or administration," she said, "but that doesn't align with what I studied."
"Now that the economy has started opening up, companies have started hiring again, but three months isn't much time to find a job and get established."
Suchita Rani wants to prove her worth to a company in Ireland and to the economy.
"International students contribute a lot to the Irish economy, we deserve a fair chance," she said.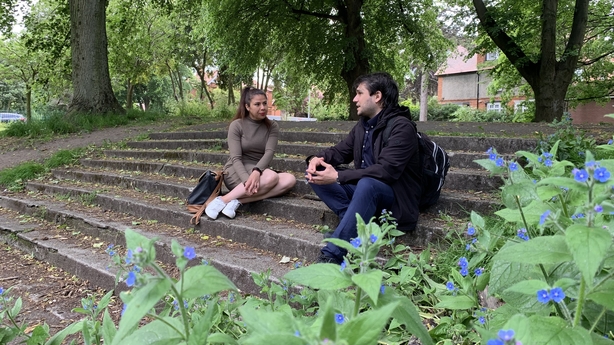 Pablo Muller from Argentina received his Masters in International Business last year but from March 2020 found himself unemployed and doing unpaid internships.
"It would be really helpful to get a 12-month extension. Then I could get a professional job in my area," he said.
"We don't want unskilled work, if we invest our money here, we want to be recognised as equals and have the same opportunities."
Ireland is an attractive place for international students because of the number of multinational companies based here.
The fees charged to students from outside Europe also generate important income for higher education providers.
The Irish Council for International Students says non-EEA students in Ireland during the pandemic have not got what they paid for.
"They pay almost five or six times what Irish or EU students do," said Brian Hearne.
"And part of the attraction is that they can work for 12-24 months after graduation."
"In many cases, they have been working in frontline services that have been really important to Ireland in difficult times. We've heard of people who've done an MBA or accountancy working as carers."
"We think that contribution should be recognised by the Government by granting a 12-month extension to their visas."
More than 7,000 people have signed an online petition calling for a graduate visa extension.
In a statement, the Department of Justice said "it recognises that, due to the impact of Covid-19, some people may not have been able to find graduate level employment before their Stamp 1G permission is due to expire.
"In an effort to assist such people, and as a temporary measure in response to the pandemic, the department will consider applications for an extension of their Stamp 1G immigration permission on a case-by-case basis."