Thousands of people from Donegal and Mayo have protested in Dublin in support of a 100% redress scheme for homes and other buildings affected by blocks defective due to the mineral mica.
Protesters assembled at the Convention Centre, where the Dáil was sitting, before marching to Leinster House.
A convoy of buses arrived from the northwest this afternoon.
Mica affected home owners say the government need to act quicker to address 100% redress for crumbling homes in response to a working group that will take a 'fresh look' at the issue #mica @NeedforSpeed pic.twitter.com/soVhP0h1Si

— Gail Conway (@gailconwaymedia) June 15, 2021
Estimates vary, but around 4,000 to 5,000 homes are believed to be affected by cracking and crumbling mica blocks.
Many other buildings, including community centres, are also affected by the issue, it has emerged.
However, they are not covered by the current Government redress scheme to repair and rebuild mica-affected homes.
The mineral mica absorbs water and causes the blocks to crack and slowly disintegrate.
While the pyrite remediation scheme fully compensated owners of affected homes in Dublin, the mica scheme is a 90%-10% split, with the homeowner paying 10% of the cost involved in repairing or rebuilding their homes.
About a third of people applying to the scheme have been told by engineers that their homes will have to be demolished.
What those homeowners are now finding is that, alongside other caps and restrictions within the scheme, they will end up paying out far more than they expected. In some cases, the cost will be in the region of €100,000.
Minister for Housing Darragh O'Brien told RTÉ's Prime Time it could cost as much as €1.5 billion to remediate the affected homes.
He agreed that the number of homes affected by mica in Donegal would exceed the initial estimate of 4,800. He said that the cost could well exceed €1 billion to the State and could be "higher than €1.5 billion".
Mr O'Brien acknowledged that those affected in Donegal were paying more than the mica scheme's allowance of 10% of the cost of saving their homes and said the scheme has been found "not to work and I accept that".
The Housing Minister pledged to meet those householders and deal with the serious issues they raised, including the extra expenses involved that are not covered by the current redress scheme.
"Rent will be dealt with", he said.
He agreed that the current scheme, which promised that the state would pay 90% of costs and homeowners, 10%, would need to change so that those affected would at the "very least get a real 90%".
Mr O'Brien had earlier told the Dáil that the Government is committed to making changes to the mica redress scheme "to make sure this scheme works".
The minister held talks with some of the homeowners at Leinster House following today's protest.
Representatives of the homeowners said they would not accept anything less than a 100% redress scheme from the Government. They described the meeting with the minister as "constructive".
The Dáil this evening adopted a Sinn Féin motion calling for 100% redress for homeowners affected by mica. The Government did not oppose the motion.
Two amendments were adopted, including one from Aontú's Peadar Tóibín which called for a public inquiry into the issue.
Thousands have assembled outside the Convention Centre, calling for a 100% Mica redress scheme for affected homes/buildings @rtenews pic.twitter.com/UURpZsFgBC

— Tommy Meskill (@TommyMeskill) June 15, 2021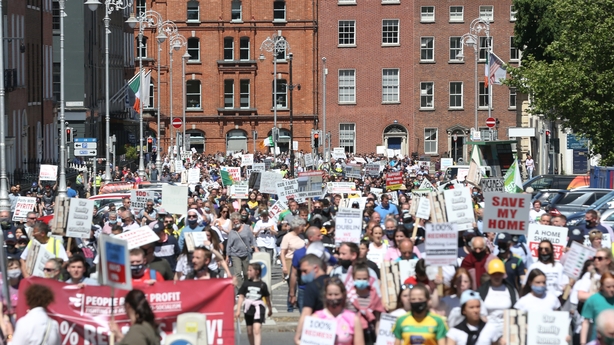 We need your consent to load this rte-player contentWe use rte-player to manage extra content that can set cookies on your device and collect data about your activity. Please review their details and accept them to load the content.Manage Preferences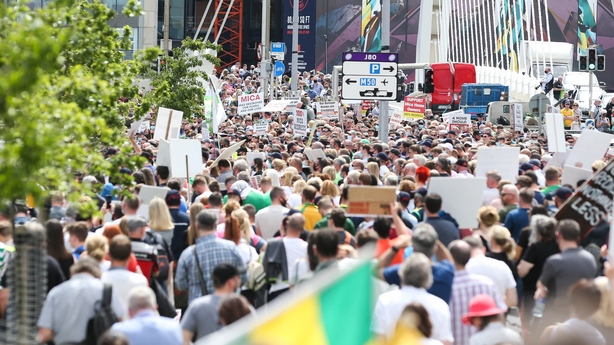 Reaction from representatives of the #MicaProtest to meeting with Housing Minister @DarraghOBrienTD - they say their 100% redress demand must be met @rtenews pic.twitter.com/0scW3AcEtB

— Paul Cunningham (@RTENewsPaulC) June 15, 2021
Agriculture Minister and Donegal TD Charlie McConalogue was not able to meet mica demonstrators in Dublin today as he is in Lisbon for a crucial EU meeting on CAP reform.
However, the minister has been explicit that he supports the demonstrators demands for 100% redress for damage to their homes.
Speaking on RTÉ's Six One News, Mr McConalogue said any decision to change the remediation scheme put in place in January 2020 will be given full consideration but before that, all the issues need to be identified.
The minister said that issues had emerged in the months following its introduction and the Government is committed to ensuring that these issues are addressed so that there is a scheme which fully supports and works for families that are affected.
Sinn Féin TD for Donegal Pádraig Mac Lochlainn said a 100% redress scheme was made available for those homeowners in Dublin and north Leinster whose homes were affected by pyrite.
He said families who are living in a devastating situation need to be told that they will not have to pay and that a full redress scheme will be announced today.
Minister for Justice Heather Humphreys said the Government is committed to assisting homeowners impacted by defective mica blocks and pyrite but that details that would increase the amount payable under the existing reparation scheme are not yet finalised.
Donegal TD Thomas Pringle raised the issue in the Dáil, where he described Donegal as the forgotten county.
Fine Gael TD Joe McHugh said the people whose homes and buildings are affected by mica have been hoodwinked in relation to the redress scheme.
Speaking on RTÉ's Drivetime, he said that the scheme that was offered was not a 90% scheme but a 70% scheme by the back door.