Minister for the Environment, Climate and Communications Eamon Ryan has said that he does not want baton charges and shields on the streets.
Speaking on RTÉ's This Week, Mr Ryan said that a new approach is needed to crack down on public disorder in Dublin city.
"What happened is deeply regrettable," Mr Ryan said, adding "what we don't want is baton charges and what we don't want is shields.
"What we do want is the whole thing to be managed in a much more thought through manner."
He was speaking after 19 people were arrested and a number of the capital's main streets were sealed off by gardaí dealing with several public order incidents.
A Government spokesperson has said the situation in Dublin city centre is being monitored closely by gardaí following public order incidents this weekend, and has appealed for people to use common sense and respect each other, their environment and gardaí.
The spokesperson said the majority of people across the country are enjoying the weather outdoors, and that people have to be on their guard amid the Delta Covid-19 variant.
Mr Ryan said that gardaí have a difficult job to do and it is worrying that some members of the force have been injured on the frontline.
"I'm concerned that guards were injured, and members of the public.
"It's not right to be throwing glasses at anyone. They have to protect their own members and protect the public.
"It's a really difficult job, nobody wants to be there saying 'sorry you have to move on, you have to break up' and I think by and large they've done it in a very well policed manner."
Mr Ryan is calling for designated "event control teams" to tackle the problem.
We need your consent to load this rte-player contentWe use rte-player to manage extra content that can set cookies on your device and collect data about your activity. Please review their details and accept them to load the content.Manage Preferences


He said: "What I think the council needs to do, and I think the Government would help them support, have event control teams that would work with the guards and local businesses, so we manage this properly."
Reducing the number of people descending on the tightly packed streets is the key, he said.
Mr Ryan said: "I think what we need to do is open up further space and spread it.
"What's happening is certain streets, in a very small area, becomes the concentration of where people are hanging out.
"By dispersing that, that's the sort of event control management I am talking about, so no one area takes too much pressure, no one area becomes the focus where people trying to look for trouble would decide to go."
It is quiet this evening in the city centre, however bars selling takeaway drinks have been requested to close, and South William Street has again been cleared.
BREAKING: Bars selling takeaway drinks have been requested to close and South William Street has been cleared again in Dublin City centre this evening @rtenews pic.twitter.com/jEu4d9n5vq

— Samantha Libreri (@SamanthaLibreri) June 6, 2021
Sinn Féin TD Mairead Farrell said people have been told to prepare for an outdoor summer and "we need to make sure we are prepared for that".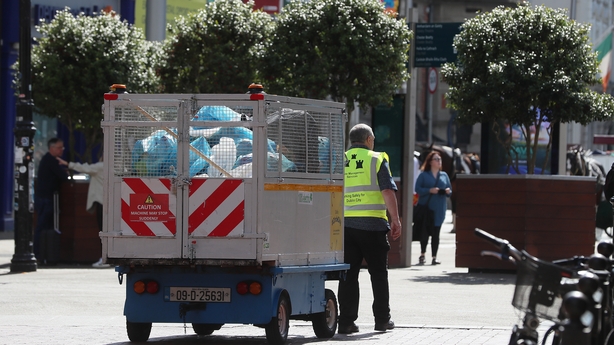 Speaking on RTÉ's The Week in Politics programme, she said a repeat of the scenes in Dublin cannot be allowed to happen, and called for the installation of more bins and toilets in city centres.
Minister of State at the Department of Transport Hildegarde Naughton said a small minority of people went out with the intent to cause trouble in Dublin.
However, she said the vast majority of people are outdoors "enjoying themselves and doing so safely".
Aontú leader Peadar Tóibín criticised the Government for not allowing pubs and restaurants to open sooner.
Speaking to RTÉ News, Dublin Lord Mayor Hazel Chu said: "I would like better public and gardaí cooperation. I really want people to come into the city.
"We have been advocating that people come in and support local businesses, but also socialise and meet their mates and have a drink.
"But we implore people, especially the smaller groups that are causing chaos, to think about everyone else when they are sharing the public space.
"Because if you're going lighting plants on fire, lighting furniture on fire, throwing bottles, you're not here to take part in the outdoor summer."