Dominican College Girls Secondary School in Taylor's Hill in Galway has over 500 pupils, but only two who cycle to school.
"That's not a really big representation of girls cycling, that's quite bad, we asked questions to the boys school in Galway and they have 510 students, and on average 23 of them will cycle a day so it's a really big difference," said third year student Bella Quinn.
A local example of a national issue, research from Green Schools shows that aside from common cyclist safety concerns, girls are also dealing with social issues such as peer pressure, the idea that cycling is 'uncool', and harassment on the roads from drivers and young men.
Bella said while she has experienced jeering from boys on the roads she has ignored them. "I would just say ignore it. You're being you, you're being amazing cycling into school, you're being unique and original so keep going and don't let anyone put you down or stop you."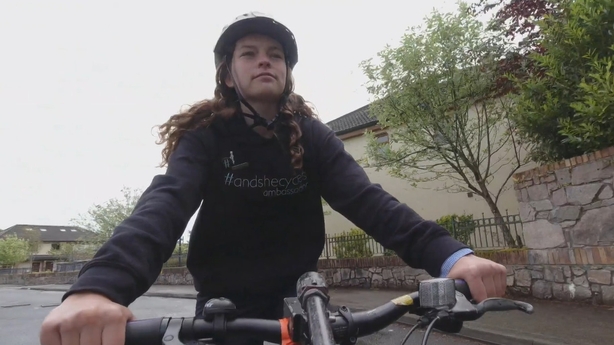 From experience, Green Schools said they reckon that for every 30 teenagers cycling to school, only one is female.
"I cycle to school everyday and people started to question whether I was poor, if I didn't have a car or something because I didn't have an option, but I spent a week off. I spent a week getting driven into school and I really didn't like it."
Bella has campaigned to get a new bike shelter and lockers for cyclists in her school, and while she thinks that for some young girls the stigma will always be there, she said that with things like bike racks, shelters and proper lockers more girls will join her.
Amid a decline in the number of girls who cycle everyday in secondary school, a campaign is looking to turn that statistic around. @AislingTM had this report for @news2dayRTE on #WorldBicycleDay2021 pic.twitter.com/kMfBZXetpD

— RTÉ News (@rtenews) June 3, 2021
Bella is one of 25 secondary school students from across the country who are ambassadors for the Green Schools campaign #andshecycles - all are making changes in their communities.
Rhiannon Dolan in St Louis Secondary School, Dundalk, Co Louth, said she has been able to make changes in her school because of the campaign.
"I saw quite a big change in our school at the minute, we're getting a bike rack, so that's going to be great, and we got permission from the principal to wear trousers instead of skirts on the way, and that was a big barrier so that was definitely a big one that we have overcome."
Fellow ambassador Mollie White from Ashbourne Community School in Co Meath said she didn't cycle to school last year, despite her desire to cycle, as she was self-conscious.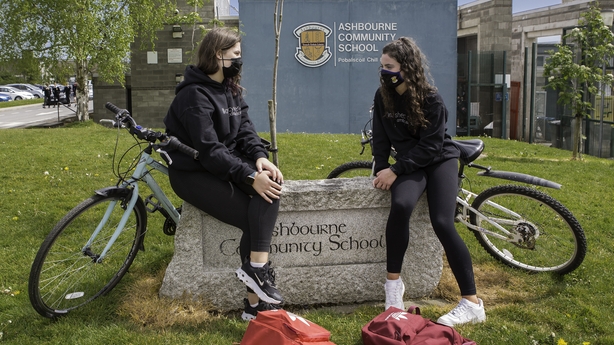 "There's a big stigma around cycling in our school, like girls cycling to school, not very many people cycle, up until last year I didn't cycle to school at all. I always wanted to cycle because I love cycling. I have such an interest in it, but I was afraid of what people would think of me."
Back in Galway, around the corner in Scoil Naisúinta Róis there are lots of girls cycling to school, some Bella hopes will join her in the secondary school next year.
While some of the sixth class girls have experienced general safety concerns around cycling, none have experienced feeling self-conscious around cycling to school and all hope to continue to cycle to school next year.
To them Bella says: "When you go into first year everyone is quite scared of what's going to happen so no one is really paying attention to you at the start, so if you're cycling and you're happy just go with it, if you're happy don't stop doing it."