Primary school pupils in Scoil Eoin Phóil in Leixlip, Co Kildare, have taken on a school skipping challenge to stay active.
Children are taking time out of each school day to get out on the yard and skip.
"We're skipping up mountains, and one skip is one metre. We started with small mountains like the Sugarloaf, then Croagh Patrick, then Carrauntoohil, Mount Fuji, and Mount Everest, but we did all of those in the first week," said fourth class pupil Zoe Lloyd.
The pupils in fourth class are top of their school league table, they have already skipped the height of Mount Everest, over 8,000 metres, and have now set their sites on a new challenge.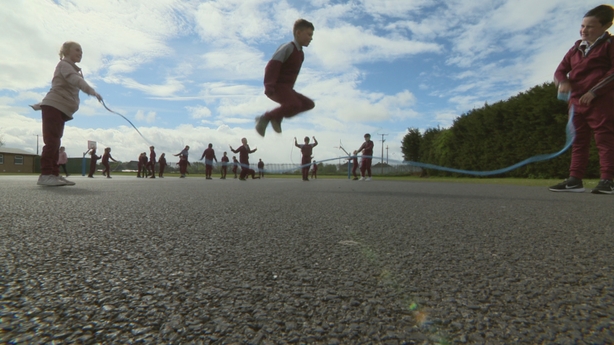 They are skipping the height of Mount Olympus Mons on Mars, which is 25,000 metres high, and they are well on the way to their goal. Fourth class pupil Dylan O'Connor came up with the target.
"Olympus Mons is a volcano on Mars and it's absolutely ginormous, I found it in one of my many, many, many, many books."
The pupils say the challenge is helping them take a 'brain break' in the middle of a school day, and they are motivated while working towards a common goal.
"Mount Everest was very big for us because we were thinking we would never complete it, but then once we reached it we were all really excited and happy" said pupil Emma Monaghan.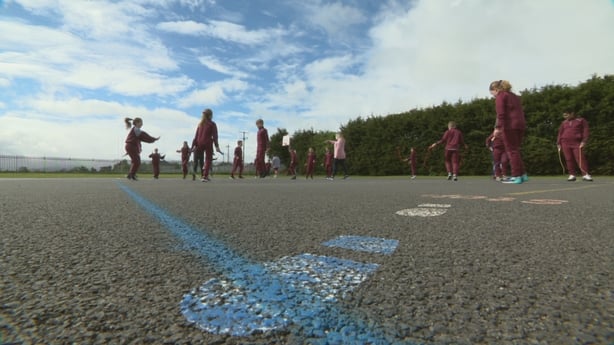 Scoil Eoin Phóil's student council came up with the skipping challenge initiative.
"We initially came up with the idea because we wanted to get the entire school out to get active as a community without actually physically being together," said student council member Lucy Harrington.
David Ibrahim, who is also a student council member, said the idea was to get the pupils active while also having fun. "The fourth class have been incredible, 22,000 skips in one week that's just amazing," he said.
The fourth class pupils said on hearing they were the top skipping class said they wanted to compound on their bouncing success.
Dylan O'Connor said he thinks the next target will be to skip to the moon, but they might be a while reaching that goal of over 380 million skips.
You can watch news2day every weekday on RTE2 at 4.20pm