The Department of Agriculture has issued a status Orange High Forest Fire Risk warning for the Easter weekend.
While a yellow forest fire warning is in place from March until September, warm and dry weather this weekend means dead grass, gorse and heather are much more flammable.
Coillte is appealing to the public not to light outdoor fires as people are tempted to visit woodland areas in their locality over Easter.
Pat Neville, Communications Manager with the forestry business, said that this is one of the riskiest times for forest fires as older brown vegetation that has not yet decomposed is extremely flammable.
"Even a very small ignition source can have very big consequences in the outdoors at this time of year," he said.
"Last year in Co Louth we had a very large forest fire that started from a very small campfire in the forest. It wasn't extinguished properly; the fire gets into the ground and very quickly a huge area was burned" he said.
Chief Fire Officer of Wicklow County Fire Service, Aidan Dempsey also warned the public of starting fires in dry, windy conditions.
"The disposable barbeque accounts for a small number of the fires that we encounter in the countryside, but the impact can be enormous."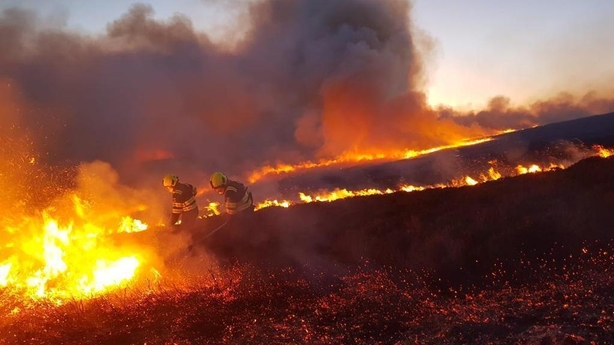 He said as recently as 2018, Wicklow Fire Service fought a fire on Bray Head for a week after it was ignited by a disposable barbeque.
The Chief Fire Officer also warned the public against setting any types of fires outdoors this weekend, "placing a disposable barbeque on grass as the weather becomes drier will cause a fire to start and then it is just a question of what is in the vicinity and how quickly it can spread".
He said their volunteers witness the severe damage any forest fire has on the wildlife, with vegetation and animals destroyed.
It can take 40 years for a forest to recover from a fire, after encountering fire on their land Coillte work to clear the land of burned debris and charred trees must be felled and replant again.
Almost 6,000 acres of forest land have been damaged by fire since 2016, and in 2020 Coillte estimate the combined cost of loss of crops and clean-up of forest fires cost €1.3 million.
While the weather is set to get colder from Sunday night, the peak risk of forest fire will occur on Sunday afternoon, and the status orange warning remains in place until Tuesday.