Amnesty International Ireland has called on the FAI to publicly come out in support of the human rights of migrant workers in Qatar, who are helping build infrastructure in the country for the 2022 World Cup.
The organisation's Executive Director, Colm O'Gorman, also urged FIFA to take urgent action on the issue.
The Republic of Ireland take on Qatar in an international friendly tonight at the Nagyerdei Stadion in Debrecen in Hungary.
Ireland manager Stephen Kenny has said human rights violations in Qatar cannot be swept under the carpet.
Speaking on RTÉ's Morning Ireland, Mr O'Gorman said the World Cup is an opportunity to shine a light on working conditions in Qatar, where migrants make up 90% of the workforce.
He said abuses and violations suffered by migrant workers include unpaid wages, excessive working hours, restrictions on movement, appalling living conditions and verbal and physical abuse.
He said more than 6,500 migrant workers are reported to have died in Qatar since the country was awarded the right to host the 2022 World Cup ten years ago.
Mr O'Gorman said the FAI could call on FIFA "who have a clear responsibility under human rights standards" to support migrant workers and take urgent action on human rights abuses directly linked to Qatar 2022.
"The people involved have the right ... not to die because of the negligence, carelessness and disregard of those involved in putting on and hosting the World Cup".
Mr O'Gorman football fans and players also have the right to enjoy the games and take part knowing that migrant workers who made the games possible are not victims of human rights abuses.
Players of Germany, Holland and Norway's national teams wore t-shirts before their World Cup qualifiers last week in protest against conditions of migrant workers.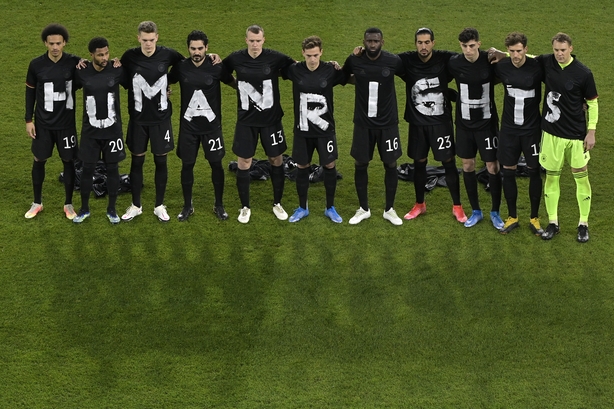 Last Thursday, a spokesperson for the Qatari World Cup organisers, the Supreme Committee for Delivery & Legacy (SC), said they had "always been transparent about the health and safety of workers".
"Since construction began in 2014, there have been three work-related fatalities and 35 non-work-related deaths," the spokesperson added.
"The SC has investigated each case, learning lessons to avoid any repeat in the future. The SC has disclosed each incident through public statements and or Annual Workers' Welfare Progress Reports."