The human rights violations that are happening in Qatar in the building of World Cup stadiums cannot be swept under the carpet, according to Ireland manager Stephen Kenny.
Ireland take on the World Cup hosts, who have been placed in Group A for the sake of build-up matches, tomorrow night in Hungary, and Kenny said that the number of stadium-related deaths in Qatar are unacceptable.
Media reports have stated that over 6,500 migrant workers have died in Qatar since the country was awarded the right to host the 2022 World Cup ten years ago, and the Ireland manager called out not only the deaths but the sub-standard living conditions that are in effect.
"There is a clear issue with human rights issues in the building of stadiums in Qatar," said the Ireland manager, speaking at today's pre-match press conference.
"A number of people have died, and you can't sweep that under the carpet. It's not acceptable for so many people to lose their lives.
"The disparity of wealth between rich and poor, to have people living in conditions of squalour and people dying in those conditions overall is not acceptable."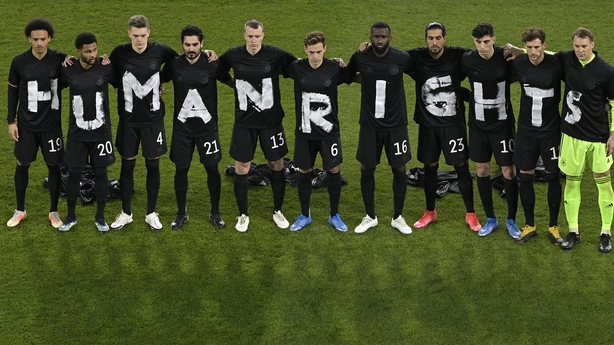 The manager spoke broadly about the effectiveness of sporting boycotts, or lack thereof, and said that he believes that the entire matter needs a broader debate.
"I'm all about freedom of speech and every individual has the right to express their opinion on the majority of issues," said Kenny.
"Initially the Norwegian team and various other teams have backed that, and they are intitled to do that, with good reason.
"Where do you draw the line? America boycotted the Olympics in Russia, Russia boycotted the Olympics in America. What does that achieve? We're not sure, even years later, we're still not sure what that actually achieved.
"So is it the handing out of the World Cup initially? Is that the problem? Should teams refuse to go over, and players refuse to play?
"There's a broader picture in sport. You say what other countries do, you pick and say you can't do that.
"It's a very complex issue, and it's something that needs a wider debate."
Whether or not the players make a statement ahead of the game remains to be seen, and while the manager said that he had nothing personal planned, he said the players can decide for themselves it they want to make a stand.
"I don't know if the players are [protesting], we haven't discussed it," said Kenny.
"I'll leave that up to themselves. I certainly have nothing planned from my point of view."
Last week, Dara O'Shea said that the squad had not discussed the matter but it may be something that they would be willing to support.
"At the moment it's something that we haven't spoken about collectively," said O'Shea.
"We've got a big game Saturday so we've got a big focus on that but it possibly is something that we would be willing to speak together about."
Follow Qatar v Republic of Ireland via our liveblog on RTÉ.ie/sport and the RTÉ News app, watch from 7pm on RTÉ2 and RTÉ Player or listen to live radio commentary on RTÉ Radio 1 Extra.