Former Ireland international footballer Jonathan Walters has called on social media giants such as Facebook, Instagram and Twitter to clamp down on online racist abuse of sports stars amid fears of a surge in cases.
Speaking after a court case last month involving a Kerry teenager who sent a string of abusive online messages to former Arsenal and England player Ian Wright, Walters said action is needed on the issue.
The former Ireland international, who won 54 caps and scored 14 goals, recently stood as a candidate to become the English Players Footballers' Association chief executive, warning online racist abuse of sports people is on the rise.
Walters said it was up to social media giants to take a stand on the issue if it is to be brought under control.
He was speaking to RTÉ's Morning Ireland after former French international and World Cup winner Thierry Henry deleted his social media accounts at the weekend due to "toxic" racist abuse.
"Players will go home and you can't hide from it. You can't get away from it. It always follows you around," said Walters.
"You look back ten or 20 years in stadiums and there was a lot of racist abuse getting given out to a lot of players. And that seems to have stopped. But social media it seems to have exploded.
"Players will go home and there is always someone there given abuse. And it's disgusting. There's got to be a lot more done about it.
"Every now and then we go through a phrase where certain things are done. But I think we need to look to the social media companies to be a lot more accountable on their sites, I think ultimately that's going to be the way you stop it.
"I saw an article, a small artificial intelligence firm removed 3,500 messages all aimed at three football players, this firm tracked down the people who were doing it. If that small firm can do it, why can't the big firms?"
---
We need your consent to load this rte-player contentWe use rte-player to manage extra content that can set cookies on your device and collect data about your activity. Please review their details and accept them to load the content.Manage Preferences
---
Speaking on the same programme, Des Tomlinson, National Coordinator of the FAI's inter-cultural football strategy, said while criticism is acceptable there is a growing problem of racist online abuse towards sports people on social media.
"[Ireland international] Cyrus Christie had stuff around lynching Cyrus Christie, the N word, lynching Cyrus Christie, on the basis of not having won a game.
"This is a human being who happens to be a footballer. So yeah there is a sense of some of the things we are talking about," he said.
The issue is also apparent in other sports, including Gaelic football.
An Gaeltacht player Franz Sauerland, who is from Kerry and whose parents are from Germany and Ghana, detailed his own experience of racist online abuse.
"There was one lad who shouted at me, I didn't even say anything to him, he shouted at me 'go back to your cotton fields'. I have a thick skin, but that affected me.
"On my Instagram I posted it and there were a few comments that really opened my eyes. A lot of it is down to ignorance and educating yourself," he said.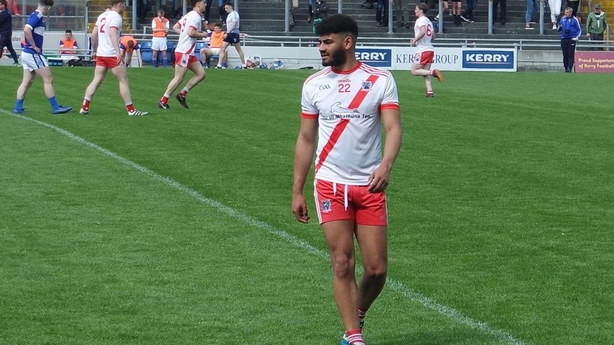 A number of sports organisations, including the GAA and the Olympic Federation of Ireland, told Morning Ireland they are aware of issues online.
OFI's Athletes' Commission chair and former Olympic alpine skier Shane O'Connor highlighted a new campaign that has been set up to try to address the issue called "Don't Scroll By".
He said: "Don't Scroll By is very simple, we have a hashtag that is Delete Ban Report.
"It's basically asking people not to ignore abusive behaviour online. We're really asking people to take a proactive approach or very active role in helping us to address this, which is a growing problem in society."
Minister of State for Sport and Fianna Fáil TD for Dublin West Jack Chambers said the Government is taking similar steps to address the issue and to support affected athletes.
"There's a clear commitment in the programme for government for a zero-tolerance approach to racism in sport.
"As a really important pillar in policy we're also developing a diversity and inclusion policy through Sport Ireland, which will comprehensively map out the scale of the issue.
"I think it's really important we send out a message to all of our athletes that they do have our support."