The Jesuit Order has publicised the name of a former teacher, who is now deceased, to encourage people who may have suffered sexual, emotional and physical abuse to come forward.
The order said the action is being taken following engagement with a former pupil who was 13 when he was sexually and emotionally abused by Joseph Marmion SJ at Belvedere College in the 1970s.
The Provincial, Fr Leonard Moloney, said he met the former pupil, who expressed concern for others and asked that his abuser be named.
He also asked that information about Joseph Marmion be made widely available in order to reach as many former students as possible.
In a statement, the order said it has been in contact with others over many years who were abused by Joseph Marmion while they were young students.
"We believe that the secrecy imposed by Joseph Marmion may still be preventing some victims and survivors from accessing help and support," it said.
It notes that following receipt of information from concerned parents in 1977, disclosures of sexual abuse were received by the school.
A decision was taken that Joseph Marmion be removed from the staff in Belvedere with effect from the end of the academic year 1977/1978.
He then spent a year on sabbatical in Paris with the Jesuit Community Saint François Xavier and was then assigned to the Gardiner Street Jesuit Community.
In 1990, he was appointed Chaplain to St Vincent's Private Hospital.
Marmion was a grand-nephew of Columba Marmion, a Benedictine monk who was beatified by Pope John Paul II in September 2000.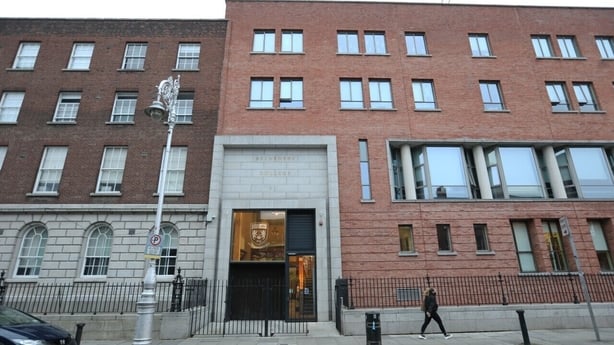 The Jesuit Order said it recognises that "these subsequent appointments should not have been made".
Joseph Marmion also taught in Crescent College Limerick and Clongowes Wood College, Co Kildare.
Fr Moloney paid tribute to the man who asked the Jesuit Order to take the current course of action.
He said: "We have in the past apologised and invited victims and survivors of abuse by members of the Society to come forward and to seek help. We do so again today.
"These efforts must always be continuous. We hope to explore with you the responses and supports that would be most useful at this time.
"I would like pay tribute to the man abused by Joseph Marmion who asked us take this course of action. His request, made solely out of concern for others has been an example to us all."
Anyone with information can contact gardaí or Tusla or go through the Jesuits Safeguarding Office - email: safeguarding@jesuitlink.ie