RTÉ has said that its Editorial Standards Board is reviewing a segment broadcast on New Year's Eve which was the subject of thousands of complaints.
Many viewers complained to the broadcaster in recent days to say they found the 'Waterford Whispers' sketch to be offensive.
In the report, God is described as being "the latest figure to be implicated in ongoing sexual harassment scandals".
The clip ended with a line that movie producer Harvey Weinstein, who is serving a 23-year sentence in the US for rape and sexual assault, had "requested for a retrial in Ireland".
In a statement, RTÉ said that the station's Editorial Standards Board is "reviewing the broadcast with regard to compliance with RTÉ's Journalism & Content Guidelines 2020, as well as RTÉ's statutory and regulatory obligations under the Broadcasting Act 2009 and the relevant codes of the Broadcasting Authority of Ireland".
RTÉ said that recommendations by the board are expected by this Friday.
There were also calls for the segment to be removed from the RTÉ Player, however RTÉ said a decision on this will be dependent on the recommendations of the editorial board.
The segment on RTÉ One was presented by former RTÉ newscaster Aengus Mac Grianna who today apologised for taking part in the sketch.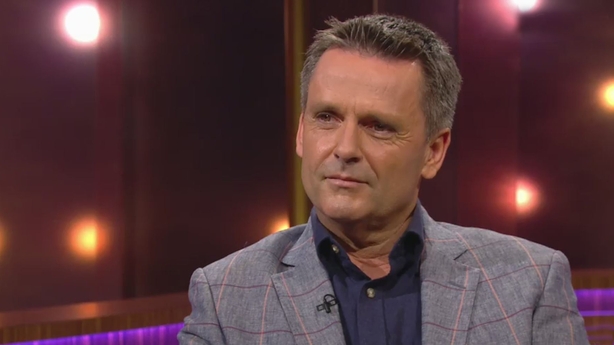 In a tweet, Mr Mac Grianna said that he was "deeply sorry for the offence, distress and hurt caused. It was wrong for me. It was wrong of me".
Personal apology: I wish to apologise concerning my participation in the Waterford Whispers News item on the NYE show on RTE 1 on New Year's Eve. Truly I am deeply sorry for the offence, distress and hurt caused. It was wrong for me. It was wrong of me. Aengus Mac Grianna.

— Aengus Mac Grianna (@Aengy2) January 5, 2021
The sketch remains on the RTÉ Player, but a warning states "viewer discretion is advised".
RTÉ said yesterday that since Friday it has received "approximately 3,500 emails and 1,250 calls regarding the Waterford Whispers sketch segment in the RTÉ One New Year's Eve countdown programme.
"This takes into account emails to RTÉ's Complaints and Information Offices, as well as calls to RTÉ's Information Office and to RTÉ's main reception".
Mr Mac Grianna retired from RTÉ in 2018. He presented his final Six One news bulletin on St Patrick's Day that year.