Cigarette butts are one of the most toxic forms of litter on the planet.
Around the world, six trillion butts are discarded by smokers every year and around a quarter of those go into the oceans.
One cigarette butt can pollute up to 200 litres of water and they are a source of micro plastics.
Cigarette filters are one of the most common forms of single use plastic.
But now two young Irish entrepreneurs have come up with a process for recycling these hazards and transforming them into a resource.
The plastic in cigarette filters is called acetate cellulose and can be used in thousands of non-medical plastic products.
Two young Irish entrepreneurs have come up with a process for recycling cigarette butts into new products. | Read more: https://t.co/VCpjAYwf6T pic.twitter.com/g9Kv9yLndY

— RTÉ News (@rtenews) January 4, 2021
Liam Lysaght, a Trinity College Dublin engineering student, has developed a process for recovering the plastic from the butts and cleaning out the dangerous chemicals.
There are 4,000 contaminants including nicotine, tar and a host of heavy metals.
His company FiltraCycle has set up a production facility in space provided by Dún Laoghaire Rathdown County Council at one of their recycling facilities.
Workers wear masks, protective suits and gloves when handling their toxic raw material.
The product is clean acetate cellulose pellets or powder, which can be used in thousands of products.
While Mr Lysaght is perfecting the process of converting cigarette butts into commercial quantities of plastic, his partner, UCD business student Mike Wylde, is sourcing the raw materials and looking for outlets for the product.
His company Nobutts.ie has developed a recycling bin which they call a "Stashtray" to collect the butts, because as he told RTÉ News "when they're on the ground it's too late to recycle them".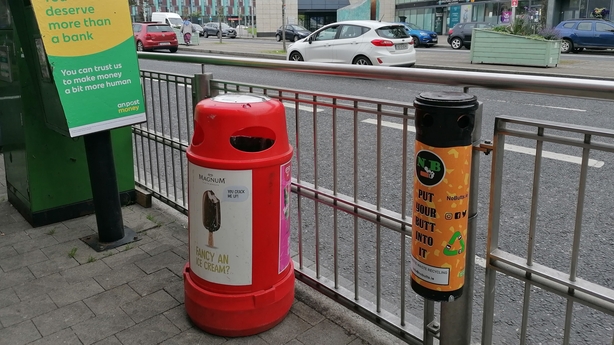 Mr Wylde had planned to concentrate on pubs and other venues, but the pandemic has limited the potential in that sector.
He has found other sources, including Mountjoy Prison, and he has even gone global, sourcing butts from community clean up campaigns in Israel, Syria, Colombia and Suriname.
This has also had the advantage of proving that FiltraCycle's process works on butts from different countries, proving its global potential.
Closer to home, Nobutts has worked with Irish Business Against Litter and that has led to their Stashtray's being installed in some town centres, including Ballymun and Blanchardstown.
They are now in talks with an Irish brand, Ambr Eyewear, which is interested in using the plastic produced by FiltraCycle to make frames for its spectacles.
Dan Nugent, a founder at Ambr, told RTÉ News that sustainability is becoming more important across many consumer products, including fashion and clothing, and his company see this as an opportunity to lead the way in sustainable eyewear.
It is still early days for Liam Lysaght and Mike Wylde, but as things stand it looks like the future is so bright they may need to get themselves some of those sustainable shades.