The Cabinet has approved funding for a major peatlands restoration plan in the midlands.
State funding of €108m will be provided to repurpose 80,000 acres of bog, in order to reduce carbon emissions in the coming decades.
The restoration and rehabilitation measures will be overseen by Bord na Móna, which is contributing an addition €18m to the project.
The company said that a significant number of staff who have worked on peat harvesting in the area will be redeployed into new roles in the coming months.
The project is due to be fully operational by next April.
We need your consent to load this rte-player contentWe use rte-player to manage extra content that can set cookies on your device and collect data about your activity. Please review their details and accept them to load the content.Manage Preferences
It follows the decision to cease peat harvesting for energy generation purposes.
As a result, power stations at Shannonbridge and Lanesboro will close in the coming weeks.
A third plant, in Edenderry, will use existing peat stocks until 2023, before it is powered entirely by biomass.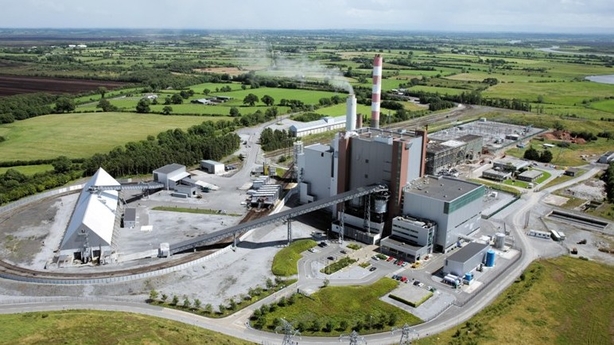 Around 350 Bord na Móna staff will be involved in operational, engineering and technical roles, under the new peatland restoration plan.
It centres on using peat to soak up carbon from the atmosphere and mitigate Ireland's emissions. The process effectively reverses the process on State lands that are managed by Bord na Móna.
Water levels will be raised on bogs that have been harvested for energy supply. This will boost the development of sphagnum mosses, that help peat to form. In turn, this will act as a sponge, that draws in and stores - or sequesters - carbon.
Bord na Móna said the approach will vary, depending on the extent to which peat has been extracted in different areas.
Where the topography has significantly changed on cutaway bogs, following decades of harvesting, the emphasis will be on encouraging grasslands and woodlands to grow. In other areas, it is hoped that boosting moss development will lead to a rapid resurgence of peatlands.
Already, around 40 former peat harvesting employees are working on sites managed by the National Parks and Wildlife Service in the midlands. An additional 310 staff will work on Bord na Móna lands.
The plan will secure around 100m tonnes of carbon, by leaving it in the bogs, and has the capacity to capture millions of tonnes more from the atmosphere.
As well as helping to reduce emissions, the restoration will boost biodiversity and lead to the development of amenities on a number of bogs.
Additional funding - totalling almost €28m - has also been approved, to cushion communities in the region as the focus switches from peat harvesting.
Under the Just Transition Fund, 47 projects will be provided with money to develop a green and sustainable economy.
The grants will be used for training and reskilling purposes, so local businesses can adapt to low carbon initiatives.
Proposals to develop innovation hubs and technology centres, as well as aquaculture and horticulture projects have been provisionally approved for funding.
Minister for Communications, Climate Action and Environment Eamon Ryan says these have the potential to create hundreds of additional jobs in the midlands.
The Just Transition Fund is financed from carbon tax revenues, with an additional €5m committed by the ESB.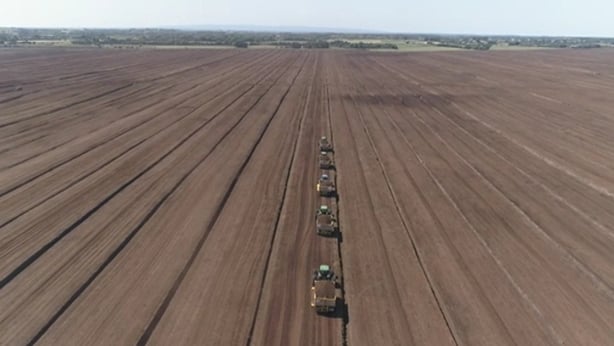 Unions at Bord na Móna have expressed concern about the possible seasonal nature of the work for employees who will be redeployed.
Many of those eligible for the new initiative would already be working on a seasonal basis.
While broadly welcoming the announcement, Bord na Mona Group of Unions secretary Willie Noone said a note of caution needed to be sounded in this regard.
He said there was a lack of clarity regarding how much work would need to be undertaken and that "some pieces of the jigsaw" still needed to be put in place.
While staff have received assurances that earnings will not be impacted, they are worried about the seasonal nature of the tasks to be carried out, as this could lead to significantly less work for members.
The farmers representative group ICMSA has called for assurances from Bord na Móna that any rewetting of State bogland will not have adverse affects on its members.
The Association says landowners need to be safeguarded from the risk of flooding as part of the rewetting programme that will be undertaken on 80,000 acres of peatlands.
It says it will insist that its members' livelihoods are not put at risk as a result of the project, and it is seeking guarantees from Bord na Móna that there will be no adverse impact on land adjoining the bogs in question.