Dublin fire crews are reporting a "very busy" Halloween night with bonfires.
By early evening, they were responding to 132 incidents around Dublin, including bonfires close to houses in Citywest and Raheny.
Three people were injured in a firework accident in the north inner city and a fourth person in a separate incident.
The victims were treated for hand, face and eye injuries.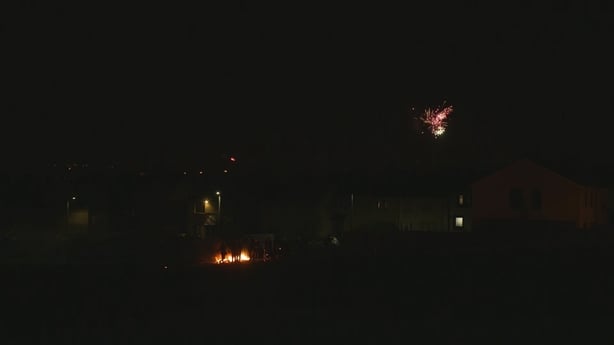 A bonfire close to the Dart line between Raheny and Harmonstown stations has led to services being halted.
Up to last Thursday there had been a 300% increase in fire brigade call-outs to bonfires compared to last year.
Last night, five units of Dublin Fire Brigade dealt with a blaze at a warehouse in Santry, where a stash of bonfire material was set on fire.
There was another dangerous blaze in west Dublin, while this afternoon units had to deal with a number of fires at apartment and flat complexes in the city centre.
Darren O'Connor, station officer with Dublin Fire Brigade, said they have to intervene if fire or smoke is causing a risk to life or property.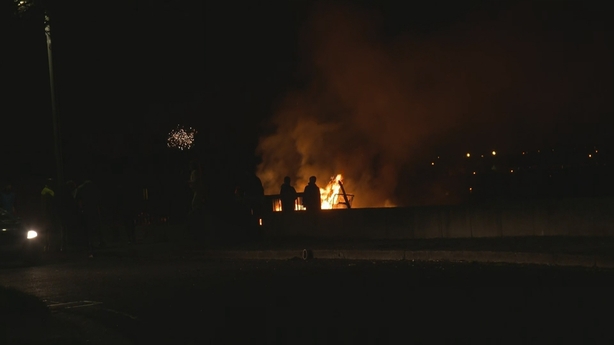 He said if conditions turn windy tonight, it could cause further risk by blowing embers and sparks.
The upsurge in bonfire activity this year follows several years where incidents had been decreasing.
Celebrating Halloween amid a pandemic
Elsewhere, parents and children in a tiny village on the Westmeath-Offaly border have been staging a novel Halloween 'drive-through' this evening, which aims to celebrate this night of ghosts and ghouls and stay safely within the Covid-19 regulations.
The children from the Stepping Stones Early Learning Centre in Ballinahown were dressing up in some of the most colourful and fearless costumes ever seen in the area, and then driving with their parents through their community, which has already been decorated with pumpkins and an array of Halloween colours, before then collecting their specially sanitised packs of Halloween treats in their cars.
"We are delighted with the positive response to our drive-through trick-or-treat," Lorraine Farrell, the owner of Stepping Stones Early Learning Centre said earlier.
"We can't wait to see all the children. We would like to remind everyone, that due to Covid restrictions, this event is for people living within 5 kilometres of Ballinahown village. We're sure everyone understands that safety is our priority."
The drive-through started at 6pm and ran for an hour.
Many families observing restrictions
Gardaí say there are no reports of any incidents this Halloween night in Limerick or Cork.
They say there are incidents of fireworks going off in suburban areas, but many families and young people have observed the restrictions imposed over Covid-19, and did not go trick or treating and stayed at home.
Weather is also a factor, with more heavy rain expected in the south tonight.
Gardaí are investigating an incident of criminal damage after stones were thrown at a car in the Southill area of Limerick.
Fire crews are reporting no major incidents.
In the midlands, no major incidents have been reported.
Fire brigades were out in several areas earlier, but gardaí say heavy rain is leaving streets mostly quiet.
Reporting: John Kilraine, Ciaran Mullooly, Cathy Halloran