The Health Service Executive has confirmed that it has received more than three million units of products from the Irish company at the centre of a major recall of sanitising products in schools.
It said it has already distributed more than a million ViraPro units to health service locations around the country, while the other two million units have now been placed in quarantine.
The HSE said it had mobilised a product recall team to establish how much product needs to be removed and replaced.
In response to questions from RTÉ News, the HSE said it was likely that all healthcare facilities have been issued with stock.
These include hospitals, GPs, dentists, community healthcare facilities, nursing homes, testing centres and the National Ambulance Service.
The HSE said it was formally notified on Thursday about the issue with the products and it issued a product recall notice to the entire healthcare system yesterday.
The Department of Agriculture recalled ViraPro Hand Sanitiser during the week because it contained methanol and posed a risk to public health.
SIPTU has said that its members in the health services are very concerned that they may have been using unsafe and dangerous product.
SIPTU Deputy General Secretary with responsibility for the Public Services, John King described it as a shocking development and called for an urgent meeting with the HSE to find out how this happened and when a safe and effective replacement for the product would be rolled out.
Mr King said members want reassurances that the HSE would "move with speed" to replace the product with something that is safe and effective, pointing out that many of SIPTU's 40,000 members in the health services are already working risky and dangerous situations.
Meanwhile, the Department of Education has initiated a review of all sanitising products acquired by schools via a centralised procurement agreement run by the department.
It has told RTÉ News that all 'biocidal' products listed in a multi-supplier agreement sent to schools in late August are now being reviewed by the department, working in conjunction with the Department of Agriculture.
The list contains hundreds of items, from sanitisers to disinfectants and PPE.
The move follows notification to schools late last night of the recall of all sanitising products provided by ViraPro.
The number of ViraPro products previously recommended by the department for use in schools runs to more than 120.
The department has confirmed that all products from ViraPro have now been removed from its education sector multi-supplier agreement.
While these products were supplied to schools via this procurement agreement by a company called Maxxcare, the products were also on general sale.
Some schools may also have purchased the same products locally from other suppliers.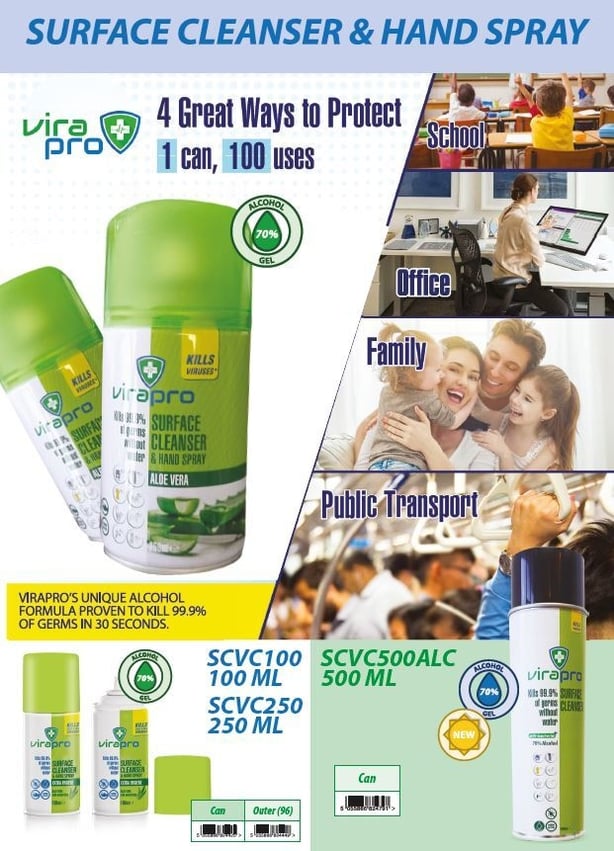 ViraPro is an Irish company with an address in Kilbarrack industrial estate in Dublin 5. It was registered in April of this year.
Its products are distributed to schools and other settings by Maxxcare, which was also established this year in response to the Covid-19 crisis, according to its website. Maxxcare only lists ViraPro sanitising products on its website.
According to a brochure sent to schools ViraPro is "a brand created and owned by Portfolio Group, an Irish family business".
The brochure states that "in order to guarantee supply, ViraPro chartered cargo planes at their own expense to bring in the much needed healthcare products to help in the Irish fight against Covid 19".
The safety data sheet for the now recalled hand sanitiser gel states that it is a product intended for use on the skin.
However, it advises that the gel "causes serious eye irritation" and should be kept out of the reach of children.
According to the Department of Agriculture, which recalled the product having previously approved it for use, prolonged use of the sanitiser "may cause dermatitis, eye irritation, upper respiratory system irritation and headaches".
Some schools and organisations have alerted RTÉ News to what they believe may be adverse effects suffered by staff as a result of use of the hand sanitiser.
One school has told RTÉ News: "We have had a teacher absent this week with both eye and skin irritation. The teacher's GP was unable to diagnose the issue.
"We have numerous members of our school community suffering from headaches.
"Schools were told to use this product and that is why so many schools were using it."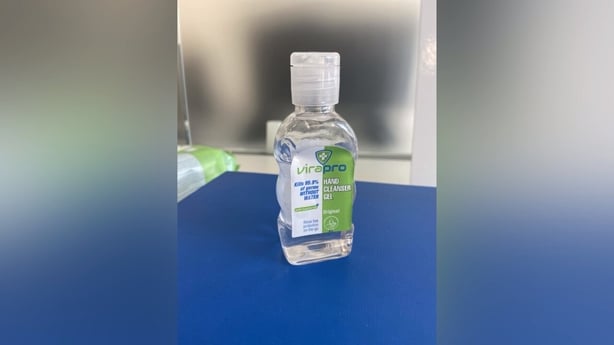 However, other schools say they have had no reports of adverse effects.
In last night's email, schools were told that if they have stocks of ViraPro their supplier should be in contact to arrange returns.
It says schools that are affected will also be provided with funding for an aide for two days to assist in dealing with these issues and they can be taken on immediately.
Last night, RTÉ News was told by a department spokesperson that it was informed on Tuesday of problems with the ViraPro range of products.
This information was only revealed after the department had initially implied that while it became aware of a problem with hand sanitiser on Tuesday it was unaware of the precise product involved.
RTÉ News has asked the department why it only informed schools of the problem late on Thursday night.
However, it has not received a response to this question.
Reporting Samantha Libreri and Emma O Kelly