Convicted drug trafficker John Gilligan has been arrested in Spain following the seizure of drugs, guns, mobile phones and documents in a joint operation involving gardaí, Spanish and UK law enforcement operation.
The 68-year-old is one of six people arrested following a series of raids in Alicante which the Spanish authorities say is part of an investigation into an Irish-led criminal gang involved in trafficking guns and drugs to the UK and Ireland.
Garda Headquarters confirmed they are working closely with the Spanish authorities.
We need your consent to load this rte-player contentWe use rte-player to manage extra content that can set cookies on your device and collect data about your activity. Please review their details and accept them to load the content.Manage Preferences
This is the moment armed Spanish police raided the house in Alicante in Spain where one of Ireland's most notorious criminals has been living.
They say Gilligan is the head of a violent gang of drugs and firearms traffickers that specialised in sending contraband from Spain to the UK and Ireland.
The house was one of four searched.
Investigators found 4 kilogrammes of marijuana and 11,000 pills, bringing the total seizure to 8kg and 26,000 pills seized in the operation.
The raids are the culmination of a joint investigation which began last year into Gilligan's gang.
Spanish police said the gang trafficked drugs through the postal system, hiding them inside packages later sent to Ireland and the UK.
Four shipments were intercepted; two cars, ten mobile phones and documentation were also seized as well as four handguns, including a Colt Python revolver which they found buried in a garden.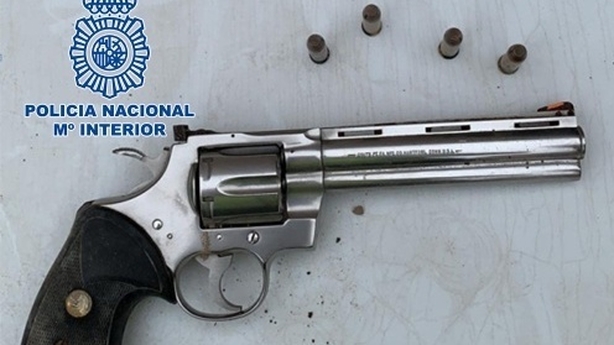 The Spanish police say it is the same make and model as the gun used to kill Veronica Guerin, the journalist who was shot dead on the Naas Road in 1996 after she wrote newspaper articles about Gilligan's drugs empire.
He was acquitted on the murder but the judge said he had grave suspicions he was involved and sentenced him to 28 years in prison for drug trafficking.
Gilligan moved to Spain after he survived an attempt on his life, criminal property charges against him in Belfast last year were dismissed and the Criminal Assets Bureau seized Jessbrook, his home in Co Kildare.
The Spanish police said in a statement that they are liaising with gardaí to determine if the gun discovered in Alicante is the same one used in the murder of Ms Guerin.
Gardaí have said they will not comment on an investigation being carried out by another law enforcement agency, but have confirmed they are working closely with the Spanish authorities on this case.