Former Debenhams employees have prevented efforts by liquidators KPMG to remove stock from stores in Newbridge, Co Kildare and Blackrock, Co Dublin.
Yesterday, joint liquidators Andrew O'Leary and Kieran Wallace notified the workers' union Mandate that they would begin removing stock this morning in order to progress the liquidation.
Last week, the liquidators secured a High Court order preventing people from impeding the removal of stock.
A truck booked to remove stock from the Newbridge store has been prevented from leaving with stock.
Despite last week's High Court Order, the picketers blocked a truck from leaving the back gate in Newbridge.
The haulier AJ Grab Hire said they were not aware that a picket would be involved in the job, and that they had instructed the driver to leave the container of stock at the depot.
The driver then departed with just the truck.
Gardaí attended the protest in Newbridge this morning, where former employees prevented the liquidators' van from entering the premises.
It is understood that the names of some protesters were taken in light of the existing court order.
At present, around 15 former workers are gathered at the back gate to the Debenhams premises.
Protesters said that a truck arrived just after 8am, but the driver was asked by protesters not to pass the official picket.
Gardaí arrived after an hour of a standoff between the driver and the protesters, which they described as "amicable".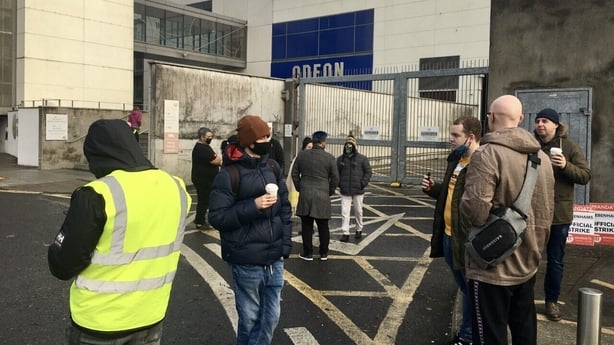 Protesters confirmed that gardaí had taken the names of seven people under the Public Order Act for obstruction of traffic.
Mark O'Brien, who worked in Debenhams for almost 15 years, said he expected the names to be referred to the High Court.
It is understood that similar scenes arose at the Debenhams outlet in Blackrock, when a van arrived and attempts were made to unload packing materials.
However, sources said that the van left after around 20 minutes.
We need your consent to load this rte-player contentWe use rte-player to manage extra content that can set cookies on your device and collect data about your activity. Please review their details and accept them to load the content.Manage Preferences
The liquidators of Debenhams Irish operation KPMG have said they were shocked and disappointed to witness what they described as "intimidation" of their staff who were attempting to remove stock from the stores this morning.
Kieran Wallace and Andrew O'Leary have also withdrawn last week's undertaking to give protesters and the Mandate union three hours notice in advance of stock being removed or packaging being delivered to stores.
In this afternoon's letter to Mandate, Mr O'Leary notes KPMG's commitment of last Friday that staff former employees would be given three hours notice of any packaging being delivered or stock being removed from stores, so that former employees would not have to remain outdoors around the clock as winter approached.
Referring to last week's High Court injunction, Mr O'Leary points out that the order is clear than any picketing or protests must be conducted peacefully and in a lawful manner.
He says that as outlined in the High Court and to Mandate, "...the liquidators have no issue with peaceful, lawful protesting by the former employees".
However, he goes on to state: "Given this, we assumed that those individuals picketing stores would conduct the pickets in line with the law. It is clear from this morning's events that those at stores this morning did not adhere to the law."
He concludes: "Given these events we will not be communicating in advance when stock or packing materials are to be moved from any stores going forward to Mandate or any of the former employees."
Mr O'Leary acknowledges that Mandate have also been clear that pickets should be conducted in a lawful manner, and that they do not support any unlawful actions by former employees at any picket.
While pictures of some physical contact between removal personnel and protesters in Blackrock were posted on social media, the blockade in Newbridge was described by former employees as "amicable".