Minister for Foreign Affairs Simon Coveney discussed the 'dramatic' rise in Covid-19 infection rates with the Northern Ireland Secretary, Brandon Lewis, when they met in Hillsborough, Co Down this afternoon.
In a tweet, Mr Coveney said he had a "good, constructive meeting" with Mr Lewis, which focused on the need for "increased cooperation" on Covid-19 between north and south.
"We also had frank exchange on Brexit & progressing NI protocol," said Mr Coveney, adding that the pair agreed to work towards the full implementation of New Decade New Approach, the agreement that earlier this year restored the Northern Ireland Executive.
Good, constructive meeting with SOSNI @BrandonLewis today. We focused on need for increased cooperation on #Covid as numbers rise dramatically.
We also had frank exchange on #Brexit & progressing NI protocol.
Agreed to work towards full implementation of #NewDecadeNewApproach pic.twitter.com/7ypp7IzE1P

— Simon Coveney (@simoncoveney) October 8, 2020
The meeting came as 923 new coronavirus cases were reported in Northern Ireland, the second ever highest daily figure. One further death was also reported. 
A spokesman for Minister Coveney described today's confirmation of the new infections as "worrying" and "consistent with the trends of recent days".
Northern Ireland's first and deputy first ministers, Arlene Foster and Michelle O'Neill, are seeking discussions with the British Prime Minister Boris Johnson.
The leaders of the power-sharing administration want British exchequer support for workers and businesses that would be affected if further restrictions were put in place.
This was the first face to face meeting of Mr Coveney and Mr Lewis since February.
The ministers discussed efforts to find a compromise in the Brexit negotiations between the UK and the EU. Other high-level contacts between Dublin and London on these issues are likely soon.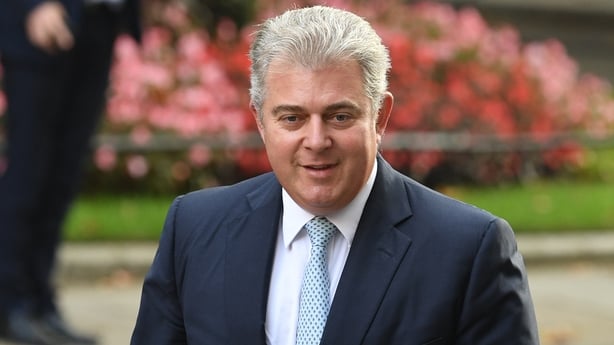 Mr Lewis is the minister who said the British government might break international law in a limited way by overriding some of the commitments it made in the Brexit Withdrawal Agreement.
Since Mr Lewis was appointed in February, meetings with Mr Coveney have been rare, although they often are in telephone contact.
Normally, the Northern Ireland Secretary-Minister for Foreign Affairs relationship is an important layer in British-Irish relations.
Differences on policy matters often occur, but the personal chemistry can be a positive force.
Meanwhile, SDLP leader Colum Eastwood has said an all-Ireland approach is needed to tackle the growing spread of Covid-19.
Speaking on RTÉ's Morning Ireland, Mr Eastwood said that although "it goes against every fibre of my being" to stop people going across the border, it must be done because people should be staying at home if they can and not make unnecessary journeys.
Mr Eastwood said more regional restrictions are also needed across Northern Ireland because it does not make sense to have localised restrictions in Derry and Strabane, while the rest of the North is operating on a different level.
In order to do this, he said, financial support will be needed from the British treasury.
Mr Eastwood said the furlough scheme in the North ends at the end of this month which could see many workers forced onto the dole.
He said that he had written to the Chancellor of the Exchequer yesterday, asking for the furlough scheme to be extended so businesses could close without going out of business.
He added that the British government has spent billions and billions of pounds propping up the economy and keeping people in work and it "wouldn't make any sense to dump them at Halloween", which would result in mass unemployment and be even more detrimental than the virus.
"We have the tools in place to stop this virus growing," he said, and "we need to get on with it", as Mr Eastwood urged people to listen to and follow public health advice.