Nearly a quarter of drivers in Ireland admit they have struggled to stay awake while driving.
Recent road safety studies also show that 16% had fallen asleep while driving.
The results of two studies on driver behaviour are being presented at the Road Safety Authority's annual lecture, which is being held online today and deals with the theme of driver fatigue.
One study found that 24% of drivers in Ireland admitted they had driven at least once over the previous month when they were so tired they had trouble keeping their eyes open.
In another study, 16% of drivers admitted they had fallen asleep or nodded off at the wheel.
The Road Safety Authority has said driver fatigue is estimated to be a factor in one in five of the deaths of drivers on Irish roads.
They say those most at risk are young men, people working night shifts, those who drive for a living, such as lorry and taxi drivers, and people with sleep disorders, such as sleep apnea.
Those in the latter category are seven times more likely to be involved in a road collision and they are being urged not to drive until they get treatment for their condition.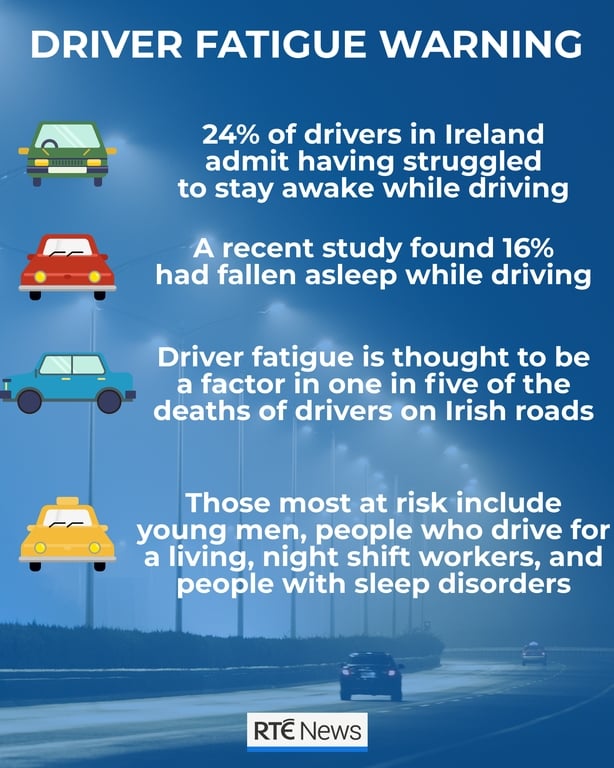 A respiratory consultant at St Vincent's University Hospital in Dublin said the risk of serious injury and death are greater in an accident where a driver has fallen asleep.
Speaking on RTÉ's Morning Ireland, Professor Walter McNicholas said the strongest possible advice is to pull over and rest if you feel tired and the worst thing to do is to fight the tiredness.
He said driving at night poses the highest risk in these circumstances, as well as the late afternoon.
Prof McNicholas added that people with a sleep apnea medical disorder have a direct association with this risk and have a seven times higher risk of falling asleep at the wheel in certain circumstances.
People working on shifts or those who work overnights are also at particular risk.