Ryanair Group Chief Executive Michael O'Leary has warned that there is a real risk of further capacity cuts to the airline's services out of Dublin Airport, if the Government does not move to open up overseas air travel quickly.
Mr O'Leary also said that although a final decision will not be made until the end of the month it was now "highly likely" that Ryanair's bases in Cork and Shannon will be closed for the winter.
Last week, Ryanair informed its staff in Cork and Shannon that it intends to close both bases for the winter, unless the Government relaxes its quarantine restrictions on passengers flying into this country.
Mr O'Leary said he welcomed the move by the Government to adopt the EU system on overseas travel, but said the airline remains very critical of the delay in doing so.
"Again, they are talking about moving to that on the 13th of October," he said.
"The point we have repeatedly made is that NPHET and the Government have mismanaged air travel on and off the island since the 1st of July.
"The Germans and Italians have been allowing intra-EU travel without restrictions, without quarantine since the 1st of July.
"Their Covid case rates are under 20. Ireland has been locked up like North Korea. We are the only EU country that has these EU restrictions in place, and yet our Covid case rate in the last 14 days is now north of 50."
We need your consent to load this rte-player contentWe use rte-player to manage extra content that can set cookies on your device and collect data about your activity. Please review their details and accept them to load the content.Manage Preferences
Mr O'Leary added that there is clearly something wrong with the test and tracing in Ireland.
"We think Eamon Ryan, the transport minister, should move today to immediately adopt the European system, and under the European system 21 of the 27 EU countries would be removed from Ireland's quarantine list, most notably the UK and Germany, where the Covid case rates are significantly lower than in Ireland," he stated.
Mr O'Leary was speaking to RTÉ News following the airline's AGM in Dublin, from which the media were excluded due to capacity constraints because of public health restrictions.
The airline boss said his message to shareholders had been one of cautious optimism.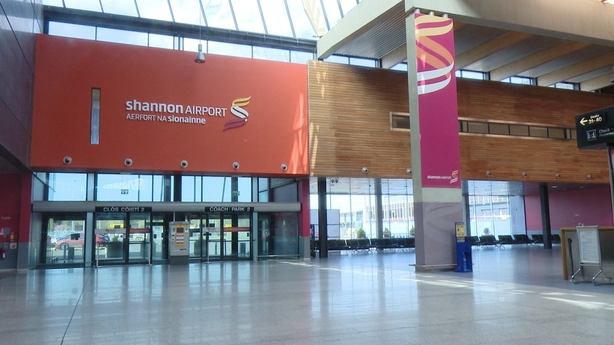 "Clearly Covid has devastated the airline industry but with our recent fundraising we have one of the strongest balance sheets in the airline industry," he said.
"We have reduced our costs in the last three or four months and we will recover very strongly with low fares once a solution or a vaccine to Covid-19 emerges."
However, Mr O'Leary warned that ongoing travel restrictions in Ireland mean further cutbacks are possible.
"I think it is now highly likely that Cork and Shannon will be closed for the winter," he said, referring to the company's bases in those airports, with a decision due by the end of the month.
"Those two airports are hugely dependent on Irish people being able to travel mainly for family reasons to the UK and mainly inbound visitors from Germany and from Italy. At the moment we are banning inbound visitors from Germany and people can't travel to the UK."
He also cautioned that further cuts to services in and out of Dublin could not be ruled out.
"I think there is a real risk of further capacity reductions out of Dublin as well. Ireland is an island on the edge of Europe," he said.
"We have been locked up like North Korea since the 1st of July.
"We've kept going with much lower load factors trying to keep our people in jobs, but I don't think that is possible while Eamon Ryan and this Government continue to mismanage the travel situation."
Ryanair is doing everything it can to avoid cuts to jobs, he said, but the company is probably facing periods of unpaid leave or three or four-day weeks through the winter to try to keep pilots and cabin crew employed.
Mr O'Leary said he does not accept that the Government had to be as cautious on overseas travel as they have and claimed further restrictions on Dublin would be "frankly unimplementable".
"Business needs to continue to function," he said. "But we as a nation need to do more on face mask wearing. Face masks should be mandatory in almost all settings."
Mr O'Leary also said the process to refund passengers whose flights were cancelled earlier in the year due to travel restrictions is almost complete.
He said 90% of passengers had received either cash refunds or vouchers at the end of July and all the backlog of cash refund requests had been cleared.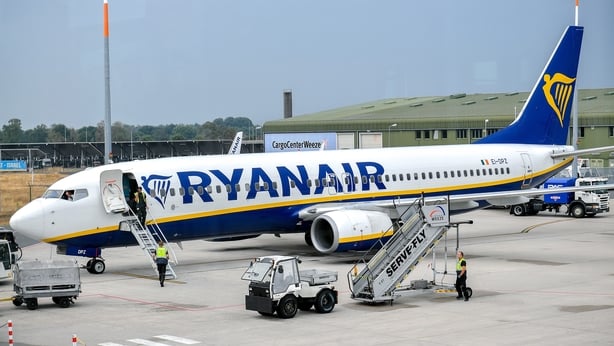 He added that there may still be some people who want to switch their vouchers for cash refunds, but the airline can now do that within seven days as the whole of the backlog has been eliminated.
Mr O'Leary dismissed reports that the Italian authorities are investigating complaints about Ryanair's adherence to public health requirements in certain airports there, saying they are completely untrue.
"We are fully compliant with the ECDC and with the EASA guidelines," he said.
"We had a meeting yesterday with the Italian authorities who have fully accepted that we are in full compliance with these measures."
Mr O'Leary said there was no opposition voiced at the AGM to the payment of a bonus of €450,000 to him for the year to the end of March, despite a shareholder advisory group suggesting in advance of the meeting that it was difficult to justify.
"My bonus has been reduced by 50%, my basic pay has been reduced by 75%, I'm very much leading the pay cuts in Ryanair and I think that's the way it should be," he said.
He added the remuneration report was approved by a two-to-one margin.
Asked about a suggestion by broker Davy that Ryanair might seek to increase its orders of Boeing 737 Max aircraft, Mr O'Leary said there are ongoing negotiations with the manufacturer.
"Certainly, there is negotiations about our existing orders, repricing the existing orders and also quantifying the compensation we will receive for the very long delay in the delivery of these aircraft, and we'd hope to conclude those negotiations by the end of the year," he stated.
"But anything else is highly speculative."
He said the airline hopes to take delivery of the first 737 Max aircraft in January or February of next year, with 30-40 arriving before the summer in order to boost growth.