Rallies by Debenhams workers have taken place in Dublin and Limerick to mark 150 days since they were laid off.
Workers are due to be balloted from Wednesday on a potential resolution to the dispute between them and the company.
They are calling for what they say is a fair redundancy settlement from their employer.
There was optimism yesterday that an agreement had been reached with the Mandate trade union that would see at least €1 million released to pay additional redundancy payments for around 1,000 workers who have lost their jobs at the company's 11 stores.
Ballot papers on whether to accept or reject the deal are scheduled to be sent to the workers from Wednesday.
Maria Murphy, who worked at Debenhams in Henry Street for 20 years, said: "as there's almost a thousand staff it works out on your contracted hours and your service and it would work out at a couple of hundred euro per person, which is an insult to the workers that built the name up in this country."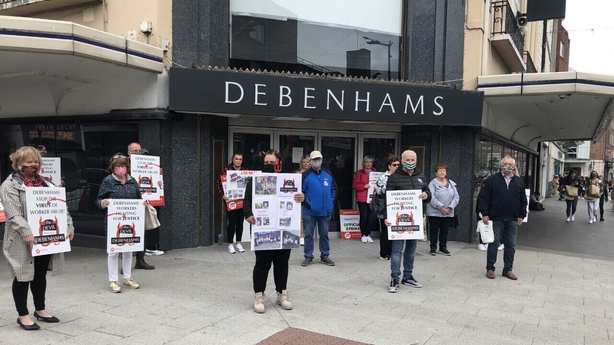 Aisling O'Gorman, who worked at the Debenhams store in Limerick, said: "I'll be here for as long as I have to, there's no way I'll be accepting a yes vote.
"For a ballot for €1m across 11 stores and over 900 staff, it's just not enough," she added.
Debenhams workers said they were not involved in any potential resolution.
On of the organisers of the rally in Dublin, Carmel Redmond, said "negotiations cant really take place without the shop stewards who we vote in store to represent us."
Lquidators KPMG have said in a statement that while significant progress had been made in discussions with Mandate, a settlement had not yet been agreed.
A number of issues had still to be resolved. KPMG added.