Fine Gael MEP Mairead McGuinness has said she is interested in succeeding Phil Hogan as Ireland's EU Commissioner.
Ms McGuinness, who is currently Vice President of the European Parliament, was speaking on RTÉ's This Week programme.
The Trade Commissioner role was left vacant after Mr Hogan's resignation from the position last Wednesday.
Ms McGuinness said that it would be a decision for the Government to make, adding that nobody from Government has been in contact with her to assess her interest in the role.
Asked if she would allow her name go forward for the position alongside Minister for Foreign Affairs Simon Coveney, she said she would have no hesitation in doing so.
Ms McGuinness said we have been through a "difficult patch" over the past week, with the country's name in Europe being spoken about in ways they would prefer not to be.
Mr Hogan stepped down following controversy over his movements while in Ireland and his attendance at an Oireachtas Golf Society event in Clifden on 19 August.
European Commission President Ursula von der Leyen invited the Government to present suitable candidates for a replacement commissioner, saying she expected it should present a male and female nominee.
She also said that she would "at a later stage decide on the final allocation of portfolios in the College of Commissioners," a suggestion that Ireland might not retain the trade portfolio.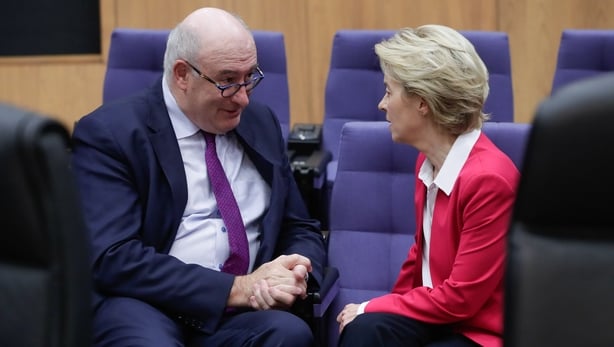 Ms McGuinness said she hopes that we can move on from the golf dinner controversy and focus on European issues that remain to be addressed.
She said: "I think it's very clear that when any member state is at the centre of a difficult crisis or controversy, it lasts over a number of days.
"It's not good for us, it's an uncomfortable position ... and I think what we will be measured by now will be our ability to recover, to get on with the business at hand, and to meet the requests of Commissioner von der Leyen."
Asked if Ireland's reputation with Europe was damaged over the course of the controversy, she said she thought the Taoiseach handled the situation well and that it was a very difficult time.
Fine Gael MEP @MaireadMcGMEP says she is interested in replacing Phil Hogan as EU Commissioner and she said Ireland should listen carefully to the request to put both a woman and mans name forward for the role @rtenews pic.twitter.com/imQL9gkYuG

— Samantha Libreri (@SamanthaLibreri) August 30, 2020
Ms McGuinness said Ireland's reputation was not damaged in such a way that it could not be recovered.
She said: "This is about somebody who is committed to Europe, and I think we have forgotten that here in Ireland. We have focused on Irish interests as if they're exclusive and different from European.
"Whoever gets this position man or woman, will be required to be a European Commissioner, clearly with an Irish background, but not only batting for Ireland."
On reports the Government may only put forward one candidate for the role, Ms McGuinness said that would be "unwise" to do, adding that she presumed the Government would understand that.
Ms McGuinness said it needed to be noted that Ms von der Leyen wants a gender-balanced commission, and that since 1958, there have been 183 commissioners, of which 35 were women.
On the suggestion that gender balance be the overriding factor in selecting the next commissioner, she said Ms von der Leyen will look at the credentials of both candidates who are put forward and make her decision based off of those.
Ms McGuinness said she still had a job to do as Vice President of the European Parliament and her focus was on that, rather than speculation on who would replace Mr Hogan.
Dublin MEP for Fianna Fáil, Barry Andrews, has said he believes Ireland's next EU Commissioner will be a woman.
He told Midlands103 he was "pretty sure" Ursula von der Leyen wanted a gender balance on the Commission. "She very deliberately requested the name of a man and a woman. I think therefore it's between, perhaps, Catherine Day, Mairead McGuinness or Frances Fitzgerald."