Ellen Glynn, who along with her cousin Sara Feeney, was swept out to sea on her paddleboard has described how they did not think anyone was searching for them because they could not see any boats or rescue helicopters.
The 17-year-old, who was rescued after 15 hours at sea, told RTÉ's Today with Sarah McInerney that the wind was so strong nobody on the shore could hear them scream.
She said they realised they were in trouble just a few minutes after paddling out, when they saw how far out they were from shore and they struggled to paddle back.
She said they started screaming in the hope Sara's mum, who was on the shore, would hear them. But nobody could.
Despite the strong waves and winds, she and her 23-year-old cousin stayed calm and believed they would be rescued, she said.
"We said there's no point in panicking, just stay positive and everything will be fine," Ellen said.
We need your consent to load this rte-player contentWe use rte-player to manage extra content that can set cookies on your device and collect data about your activity. Please review their details and accept them to load the content.Manage Preferences
She and Sara tied their paddleboards together and when they came across the lobster pot buoys they attached the boards to them and took turns sleeping because they were so exhausted.
She said it is a "blessing" that she and her cousin found the buoys as she does not want to think about what would have happened otherwise.
"We were lying back, and we were just so cold, trying to stay awake but we'd fall asleep every so often just for a few seconds," she said.
Ellen said that the flotation devices she and her cousin were wearing probably saved their lives and she thinks they would have panicked had they not had them on.
She said she is a regular paddleboarder but unfortunately neither of the young women had mobile phones with them so they were unable to contact rescue services themselves.
Ellen Glynn, who along with her cousin Sara Feeney was swept out to sea on her paddle board, has described how they stayed calm during their ordeal. She also said the wind was so strong as they were swept out, that nobody could hear them shout for help | https://t.co/y6aBXdJiVi pic.twitter.com/h3fEuGwr3b

— RTÉ News (@rtenews) August 14, 2020
"The helicopter came and we thought their lights would pick us up because of the lights on our lifejackets but they didn't see us either," Ellen said.
She said at one point a boat came really close to them and they thought it would see them.
"We got unlucky with that."
Ellen said the water was warm, but as soon as the sun went down it got really cold outside and the wind was getting heavier and there was thunder, lightning and heavy rain.
---
Listen: Full interview with Ellen Glynn
---
She said they were "absolutely frozen".
"We were quite sure we were going to be found. I was just worried about how cold we were. We were shaking like leaves.
"When it got brighter we couldn't identify anything around us as it was so foggy, but then we could make out the Cliffs of Moher on one side and then Inis Oírr on the one side."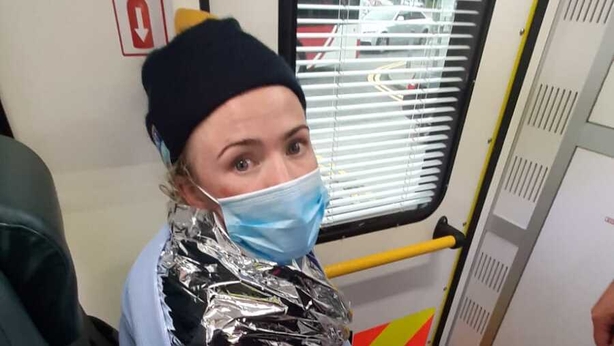 She said the waves were pushing them out to the Atlantic Ocean and they struggled to paddle over to the Aran Islands.
She said eventually her cousin spotted a fishing boat as it was coming towards them.
She said she did not initially realise that the boat with fisherman Patrick Oliver and his son Morgan was part of the search for them.
"I didn't know they were out looking for us. I thought they were out fishing. I said thank you so much. I said we have been out here since last night and no one is looking for us," she said.
The fisherman then told them that a huge number of people were involved in the search for the two cousins.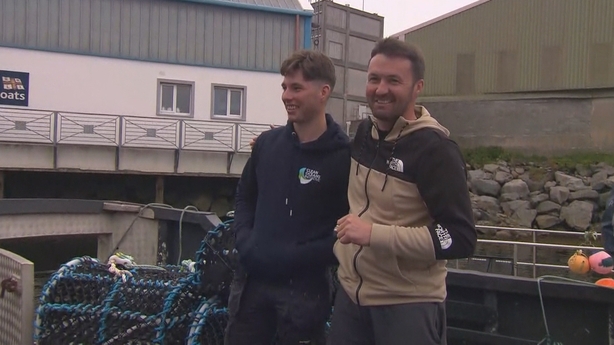 The pair are so grateful to the fishermen who found them and who took care of them after they were rescued, she said.
Both young women were taken to hospital and Sara was discharged last night.
Ellen said she is recovering well in hospital and has a minor issue with her muscle enzymes. She expects to be allowed to go home tomorrow morning.
When asked if she would be paddleboarding again, she said she does not think she will be allowed.
---
Read more
Father of rescued girl felt 'helpless' during search
Paddleboarding cousins recovering after sea rescue