Work on a multi-million euro sports facility in Co Mayo is moving a step closer to completion, with the inflation of a huge dome, covering a four-acre site.
The development at the Connacht GAA Centre of Excellence in Bekan will include state-of-the-art 4G playing surfaces, a running track and a multitude of training facilities.
Described as the biggest indoor playing dome in the world, it is scheduled to be ready for use by late September.
The structure will use automated fault detection, monitoring and maintenance technology to control heat, pressure, humidity and lighting.
In recent days a team of engineers have been pulling the inflatable covering over the site. Work on filling it with air began this morning and was completed by early afternoon.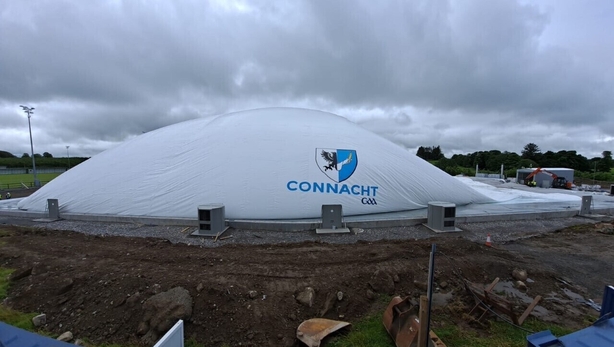 As well as providing additional training facilities for the GAA community in Connacht, the dome can be transformed into a fully functional conference centre, giving the region additional options for large scale, open plan events.
Connacht Council CEO John Prenty said the idea for the development came about, in part, due to the windy conditions at the site.
Located on a site purchased by the GAA in the mid 2000s, the Centre for Excellence opened in 2011.
It contains six full size pitches, a gym, changing rooms, a lecture theatre and meeting rooms.
The €3.1m cost of the dome has been funded to the tune of €2.1m by the Exchequer, with Croke Park contributing a further €700,000.
The remaining costs are being paid for by Connacht GAA.
Awesome indoors of the Air Dome what a magnificent facility massive credit to @PruntyPitches @ireland_sis #ConnachtGAA pic.twitter.com/buXNkedLDs

— Connacht GAA (@ConnachtGAA) July 23, 2020
Covering an area of 150 m x 100 m, the inflatable roof is anchored to a metre high perimeter wall around the site. Three pumping stations are being used to blow up the structure and to keep it in place.
It has been designed to be as energy efficient as possible, meaning running costs will be low.
The double layer inflatable membrane can adapt to weather conditions and when fully inflated can withstand windspeeds of 100km/h.
When it is fully inflated, the dome is 26 metres tall.
Mr Prenty said work was ongoing to future-proof the development, with the GAA offering naming rights and sponsorship options to interested businesses.
Brendan Heaney, who was the project director, described the structure as like "Croke Park, covered".
Connacht GAA is hoping the dome will double player traffic to the Centre of Excellence in the next three years.