The funeral of 14-year-old Noah Donohoe, who was found dead in Belfast after a six-day search, has heard he was "a beautiful soul ... who was just full of the joy of living".
In compliance with social distancing measures, only a small number of immediate family members and friends walked behind the hearse and entered the St Patrick's Church in the city centre.
Dozens of people stood outside and watched as the white coffin was carried inside.
A photograph of Fiona Donohoe and her only child, the boy she described as her world, was placed beside his coffin inside the hearse.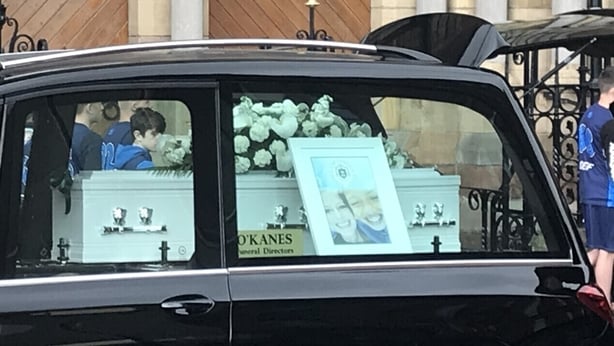 In a statement issued through the local parish priest last night, Noah's mother said she wanted everyone who had supported and helped her family to be at home with their own children, rather than try to attend his funeral.
She urged them to "embrace them and cherish them, for every moment with them is precious".
The family has expressed their "overwhelming gratitude" for "the support, outpouring of love, and empathy" they received.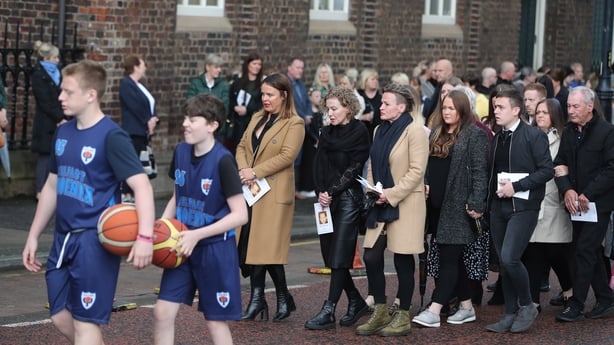 Noah's body was found in a storm drain in north Belfast last week following a huge search that involved hundreds of members of the public, as well as police and specialist teams.
Police believe he fell off his bike and sustained a head injury shortly after leaving his home on Sunday 21 June.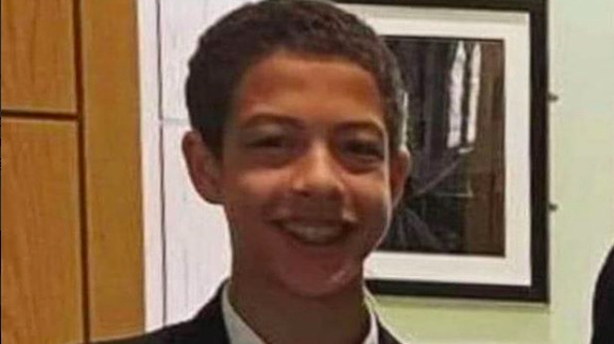 In his homily, Fr Micheal McGinnity spoke of a "tangible sense of shock and disbelief" and a sadness that could not be put into words.
He said: "So much has been written and said about Noah that has touched the hearts of everyone in this city.
"But what has stayed with me are the words of Fiona when she spoke to me last Sunday night.
"She said 'I have been so blessed. Noah was a beautiful soul with a beautiful mind. He poured a whole lifetime of love into my life in 14 short years'.
"What a wonderful tribute from a mother to her son who is such a godsend to her."
Fr McGinnity said people everywhere were united in their heartfelt sympathy towards Fiona and her family.
The priest told mourners Noah "met life with a sense of wonder at everything around him and in him".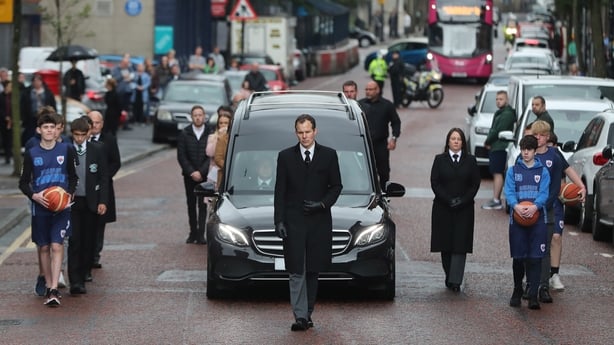 "He had a natural curiosity about life. Every day he wanted to know more about the world and his place in it. Noah was the kind of boy who was just full of the joy of living.
"Whether he was on the basketball court or playing his cello or just having fun with friends, he savoured every moment."
In a message to the family, he said: "None of us can begin to imagine the depth of your sorrow and the visceral depth of your grief.
"At the same time, as we gather here in St Patrick's Church, very conscious of your gratitude to so many people who have reached out to you and your family in your hour of need.
"We think today of people from across the community who took to the streets, day after day, in search of Noah.
"We also remember the police and rescue teams who were relentless in their efforts to find him."
When the funeral cortège left the church, several hundred people lined the route as it made its way to the nearby school Noah attended.
Pupils and staff at St Malachy's College in north Belfast held their own prayer service while the funeral was taking place.
The cortège made its way through the gates of the school, which have been turned into a floral tribute, and up the driveway lined by pupils and staff before turning and taking the teenager down its drive for the last time.