The National Campaign for the Arts has told the Special Committee on the Covid-19 Response that the crisis has created profound challenges for the arts and culture sector, which have compounded years of under-investment.
Angela Dorgan of the National Campaign for the Arts said social distancing measures will continue to mean that events and gatherings are simply not viable.
She told politicians that organisations are losing €2.9m in revenue per month of shutdown.
While she has welcomed the recent announcement of €20m for the Arts Council, Ms Dorgan says the Government must now commit to allocating the €30m called for by the Arts Council Covid-19 Expert Advisory Group for a Sustainability Fund in 2021.
Ms Dorgan, who is chair of the steering committee, also called on the Government to reform the tax regime to incentivise and encourage charitable donations to keep arts organisations in business, and for the Pandemic Unemployment Payment (PUP) for freelance artists and arts workers to be extended until arts and cultural events resume to normal levels.
Shane Dunne, deputy chairperson of the Event Production Industry Covid-19 (EPIC) Working Group, said the industry is in a crisis that has been created by the restrictions required to fight the pandemic.
The group represents 19,000 skilled workers employed behind the scenes, including specialist electricians, marquee and stage suppliers, lighting and sound engineers, safety consultants and commercial event organisers.
It says the funding recently administered to the Arts Council will not make its way to the businesses and staff it represents.
Mr Dunne said that never in the history of staging live performance and events has there been such a sudden and total stop to work in Ireland.
He told the committee that the sector has lost an entire year's turnover – not just a few months.
We need your consent to load this rte-player contentWe use rte-player to manage extra content that can set cookies on your device and collect data about your activity. Please review their details and accept them to load the content.Manage Preferences
The funded sector is starting to see supports provided, he said, and now the non-funded sector must be addressed too.
Fine Gael TD Colm Brophy said it was "optimistic" to believe that there would be any change in the arts industry between now and this time next year.
Deputy Brophy said we could end up with a situation where it is 12 months before events resume, and asked for an outline of the key issues that groups would like tackled in order to deal with that possibility.

---
Read more:
Business owners told they have no cover for Covid-19
SMEs call for more Govt funding to survive
---
Sophie Ridge, chairperson of the EPIC Working Group, said that while she hopes it will not take that long for the industry to get up and running again, she fears it could.
Members need to be kept alive and well enough not to have to take jobs in other sectors, she said, and Covid-19 payments must be kept going, as well as support from banks for members' loans and mortgages.
Committee chair, Independent TD Michael McNamara, said the arts sector has been left to "go to the wall".
He said: "The fact that 150 people in an aircraft are safe for three hours but 150 people in the Abbey is a threat to life, its nonsense it seems to me."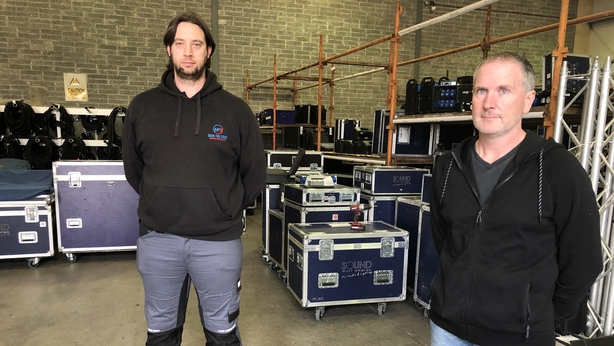 Murt Whelan of Murt Whelan Sound in Co Limerick told RTÉ News that he had borrowed €1.8m in the last 18 months to invest in equipment, as 2020 looked set to be his busiest year in 20 years of being in business.
"We have lost 100% of his business because of Covid-19," Mr Whelan said.
That sound equipment now lies idle, instead of being used at festivals, concerts and events around the country and by Irish bands touring abroad.
"We do not know if we are going to have a workforce after this, if we are going to lose the skilled labour which is essential to our industry," Mr Whelan said.
Joe Betts of Made for Stage, which is a rigging supplier also based in Limerick, shares his concerns.
"There is no sign of events being able to start up at any time soon," Mr Betts told RTÉ News.
"For us and for everyone in this industry I think it would be game over if we do not get support, there isn't any way for a company that specialises in events to make money without events."
Additional reporting Laura Fletcher