The Department of Justice has refused to comment on calls by residents and local people to close a direct provision centre in Cahersiveen, Co Kerry.
RTÉ News understands that there have been around 20 cases of coronavirus among approximately 100 residents there since the centre opened just over a month ago.
The centre opened at the former Skellig Star Hotel in the town centre on 18 March. Around 100 people, who are applying for asylum in this country, were moved there from Dublin.
Within a month, a case of coronavirus had been confirmed at the centre. Other cases followed.
All residents have now been tested and RTÉ News understands that there have been around 20 confirmed cases there.
Residents who tested positive have been moved elsewhere for treatment and recuperation.
In the meantime, remaining residents at the centre have joined local people in calling for it to be closed on safety grounds.
They claim social distancing is impossible there, given the need to share rooms and kitchen facilities and because of the size of the common areas of the hotel.
Today, as RTÉ News filmed at the centre, residents protested and called for the centre to be closed.
They say they want to be moved to a centre where their safety can be guaranteed.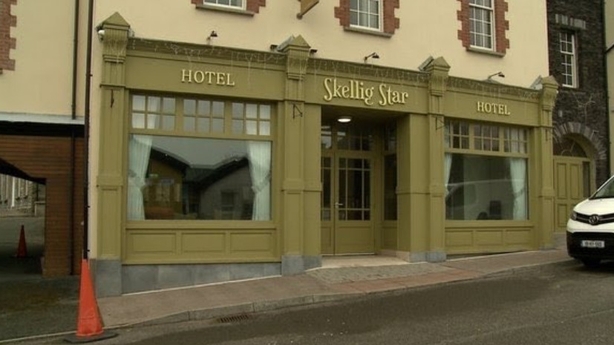 One of those is Mariam Namirembe, who has been living in Ireland since last August. She told RTÉ News her husband and two sons remain in Uganda, where she trained as a psychologist. She said she came to Ireland seeking asylum.
As she spoke from behind locked gates at the centre, she was surrounded by several other residents. She said she was speaking on their behalf, and on behalf of others who, she said, were too frightened to protest. 
"Conditions here are not good. We are in a centre that has got 22 Covid-19 cases," Mariam claimed.
"We are in total lockdown. We can't go out until the HSE says we can go out. We are not happy. Our minds are down. We are stressed. We request people to listen to us."
Mariam said social distancing did not apply at the centre because beds in the shared bedrooms were too close together.
She said her room-mate had tested positive for coronavirus and was moved from the centre, but Mariam was still in the same bedroom. 
"I am scared. My life is at stake," Mariam said.
Her words were echoed by fellow resident, Azwar Fuard, who is living at the centre with his wife and three-year old daughter.
Azwar says he left his work as a business consultant in Sri Lanka to seek asylum in Ireland.
"I don't think this place is okay for me. I think this place is full of infection," Azwar said. "It should be properly disinfected, so people should be moved from here to a safe place."
There have also been calls from local people to close the centre, on the grounds that it is not fit for purpose and poses a risk to its residents, as well as to the wider community in Cahersiveen.
Jack Fitzpatrick, Chairman of Cahersiveen Community and Business Alliance, is also part of a welcoming committee set up in Cahersiveen when news that a direct provision centre was opening first broke.
He denies "absolutely" that local people are opposed to having a direct provision centre in the town. He said the opposite was the case.
"We could do with 20 or 30 families moving into Cahersiveen, because we have a declining population and it would be good for the area," he said.
"But it should be done in normal times, not in the middle of a pandemic."
In a statement, the Department of Justice said all HSE guidelines for dealing with vulnerable groups, such as those for cleaning and physical distancing, are being fully adhered to by all centres, including in Cahersiveen.
The department confirmed that testing of residents and staff has already been completed there by HSE Public Health and that anyone with a positive result had been transferred to an off-site self-isolation facility.
It said other residents had been asked to self-isolate, but it acknowledged that "an isolation situation is difficult" in Cahersiveen. 
The statement made no reference to the calls for the centre to be closed and its residents moved to another location.
It said: "The Department and the HSE are following the Health Protection Surveillance Centre Covid-19 guidance for Homeless and other vulnerable group settings including Direct Provision settings.
"That guidance exists because it is recognised that congregated settings such as Direct Provision centres present specific challenges in this pandemic."