The incubation and hatching of a pair of white-tailed sea eagle chicks has been captured on a live webcam for the first time in the country at a nest on Garnish Island near Glangarriff in west Cork.
Sea eagles were extinct in Ireland for a century, but are now breeding in the wild again, thanks to a successful project to re-introduce them between 2007 and 2011.
One hundred sea eagle chicks were brought from Norway and reared in Killarney National Park, before being released into the wild having been fitted with tracking devices.
The project was sponsored by the Department of Culture, Heritage and the Gaeltacht's National Parks and Wildlife Service and the Golden Eagle Trust.
The sea eagles released in Killarney dispersed throughout the country, but have mainly nested in remote coastal areas along the south and west coasts.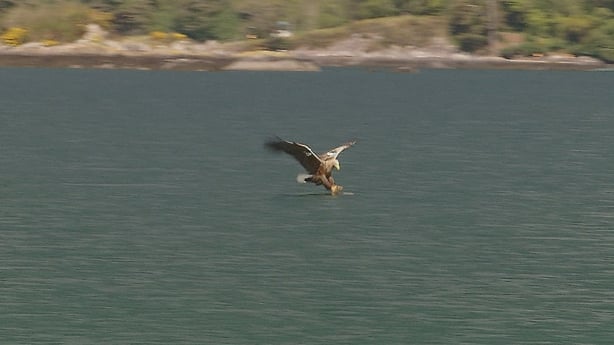 The project has had many setbacks, with chicks dying shortly before or after fledging, and adult birds being poisoned.
But there are around a dozen breeding pairs and this has given those involved in the project hope for the future.
Sea eagles have been nesting in Glengarriff since 2013. In 2016, a pair of eagles raised the first chick there to fledge the nest.
Within the past fortnight, the hatching of a pair of chicks on Garnish Island was captured for the first time live on a webcam installed by the National Parks and Wildlife Service and the Office of Public Works.
The first chick hatched on 15 April, with the second hatching four days later.
Today, both parents were feeding fish to the two chicks, who have grown considerable and appear to be thriving.
It is a long way from the arrival of the first chicks here in 2007, admits Project Manager Dr Allan Mee.
"Since we released the first birds in Killarney National Park, it seems like a long way off. It's great to see this success finally here."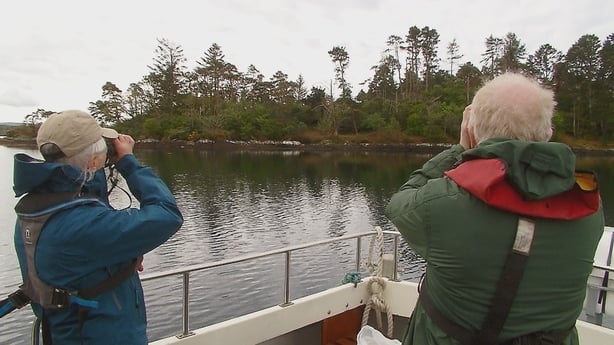 Wildlife Conservation Ranger Clare Heardman of the National Parks and Wildlife Service is based nearby at Glengarriff Nature Reserve.
She is responsible for the webcam project on Garnish Island and is overwhelmed by the reaction to it.
"Just a few days before we knew the chicks were going to hatch the webcam went live online," she explained.
"It's just been fantastic that we've been able to broadcast live, with so many people stuck at home and not able to get out much in nature. To be able to watch the eagles live in your own home. There are so many people addicted to watching them.
"I keep getting messages and phone calls and emails from people telling me what they've seen. It's really special to watch."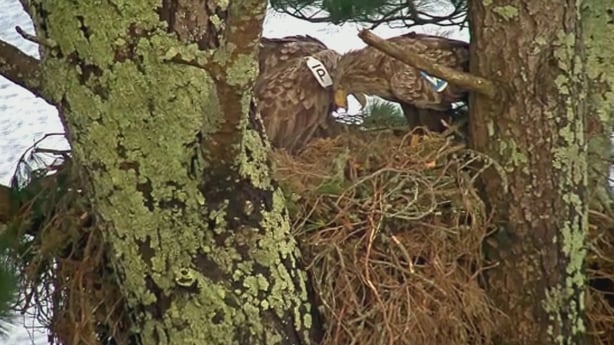 White-tailed sea eagles have not as yet reached the point of viability in this country, but as more birds pair and breed, self-sustainability is getting closer.
Dr Allan Mee said ten to 15 breeding pairs having one or two chicks each per year will be required to reach that point, but for now the numbers were heading in the right direction.