The leader of the Catholic Church in Ireland says so many people are watching mass services online that webcams in churches across Ireland are crashing because of the demand.
Archbishop Eamon Martin today celebrated Easter nass in an empty Newry Cathedral, but the service was live-streamed.
In his Easter message, he said: "Please God it won't be too long before we can go back to singing and dancing together, to meeting and greeting, travelling and discovering, and gathering in church to celebrate and praise god."
Speaking afterwards, he pointed out that the church has been surprised by the numbers of people tuning in to masses being streamed from churches throughout the island.
"I found it sad to be saying Easter Sunday mass with the cathedral here in Newry completely empty," he added.
"The only thing that really kept me going was knowing that it was anything but empty, that there were people, thousands of people tuning in all over this country to their masses, to their services today.
"And those people are finding hope in the message of Easter Sunday, which is 'Christ is risen'. You know, are a hope filled people, and that's the way we need to be during this difficult time.
"I think that many of our webcams have crashed because of the huge numbers of people who have been wanting to find some spiritual comfort in the midst of this turmoil that we're going through.
"I think people still want to link. Church is actually about gathering, but now we're gathering virtually, we're gathering spiritually in this kind of strange communion, that happens over the airwaves."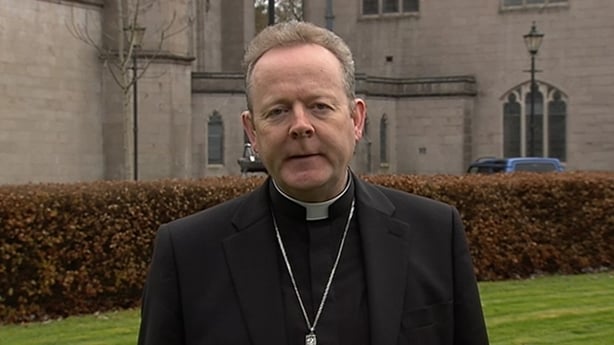 The Archbishop urged people to continue complying with the restrictions on movement introduced as part of the strategy to limit the spread and impact of Covid-19.
He urged young people struggling to cope with the uncertainty and stress around exams and the pressures of being cut off from their friends to reach out to speak to others if they need help.
"I think we're beginning to realise it's dawning on us, that we're in this for the long haul," he said.
"I was speaking to some young people who are doing their Leaving Cert, and suddenly it has dawned on them and their families and all of us that this virus is really changing this entire year.
"The way our rhythm of the way we've been working and working towards the summer months. That's all disrupted this year.
"We're walking with you through this terribly traumatic time, and to realise that you may be isolated, but you're not alone"
"But in the midst of that, it's great that we have hope and that we do hold on to family to friends to teachers, and I'm saying to young people, you know, believe in yourselves believe that you can get through this.
"And turn to others and get help. I would also say to people to keep with the restrictions, keep making those sacrifices, because clearly the sacrifices that denial that we make is helping to save life."
Archbishop Martin said he is aware that many are heartbroken that church doors have been closed at this time.
"I keep saying to them, listen. The light is still on the Lord is still present. We are still with you.
"We're walking with you through this terribly traumatic time, and to realise that you may be isolated, but you're not alone.
"We're with you in prayer. We're with you in your sad moments we're continuing to reach out to our second our elderly through online contact and through telephone contact and reassuring people to listen. We'll get through this together."