Public funerals have now been banned in two Catholic dioceses as part of efforts to halt the spread of coronavirus.
The church says the move is necessary to protect the public and because many priests are elderly and considered vulnerable.
Funeral masses ended last week in Down and Connor, which includes Belfast, and is the second largest diocese after Dublin.
The policy has also now been introduced in the diocese of Clogher, which has 85 churches across five counties.
It includes all of county Monaghan, virtually all of Fermanagh, a large part of Tyrone, and also has parishes in Donegal and Louth.
"Our world has changed dramatically in a few weeks, things that were very much routine are now different"
The diocese has also ended baptisms, marriages and individual confessions as well as Sunday mass.
The move means that for the foreseeable future, there will be no public funeral masses.
Instead, the deceased will be taken straight to the place of burial.
Bishop Larry Duffy said he felt he had no choice.
"Our world has changed dramatically in a few weeks, things that were very much routine are now different," he said.
"This is very difficult thing to do, no doubt about that. A funeral is a huge social event in Ireland, and in particular in rural Ireland, where people meet, support each other, sympathise, tell stories about the deceased and remember them with fondness.
"But we felt this was the best thing to do, very difficult to do, and not something you would normally do.
"I suppose it's out of love for one another in the end of the day, that's the real call of the Gospel, to care for one another, and it is really done out of any effort to care for people so that less people contract this virus."
The Bishop said the move is also necessary because many priests in the diocese are aged over 70, and considered at risk of serious illness if they contract the virus.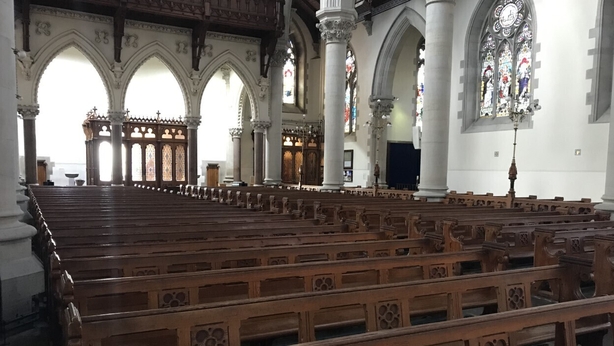 The Archbishop of Dublin, Diarmuid Martin, yesterday said all priests and deacons and all religious and lay staff must immediately comply with government regulations.
A number of priests and deacons have tested positive for Covid-19.
"When the Taoiseach spoke on Friday night about the need to cocoon those over 70, I began to look at the priests we have and almost half of them are over 70, or have particular health considerations," said Bishop Duffy.
He is keen to stress that funeral masses are being postponed rather than cancelled.
"I know how important a funeral service is for people,' he explained.
"We will do what we can. The priest will do his best to conduct a private mass, many of which can be relayed over webcam to families and they can join in that way.
"But this is a postponement, not cancellation. There will be an opportunity to celebrate a public funeral mass at a later date, if that is the wishes of the family."
In an email to parishes yesterday, Archbishop Diarmuid Martin said funerals in the Dublin diocese can go ahead with small congregations, but further guidance will be issued tomorrow.
Coronavirus is having a devastating impact on the way lives are lived throughout Ireland as well as across the globe.
It is now also intruding on the way people can cope when lives come to their end.