Irish people overseas who wish to return to Ireland have been advised to do so as soon as possible while commercial flights are still an option.
Tánaiste Simon Coveney said "flight restrictions and route cancellations are happening on a daily basis worldwide" due to the Covid-19 pandemic.
He said that as a result "there is no guarantee that air routes will continue to operate for the coming weeks."
The Minister for Foreign Affairs said that where commercial flights are still an option, he recommends people who wish to return to do so "make arrangements to return to Ireland as soon as possible." 
Mr Coveney said the Irish embassy network is "working around the clock" to assist people.
"We are working with airlines to show maximum flexibility to those passengers who need to change their existing flight arrangements," he added.
The Department of Foreign Affairs has advised against all non-essential overseas travel until at least 29 March.
This includes the UK, but does not apply to Northern Ireland.
All persons, including Irish residents, entering the country from overseas, should restrict movements for 14 days if asymptomatic.
Earlier this week the Department of Foreign Affairs urged all Irish tourists in Spain to travel home by this Saturday.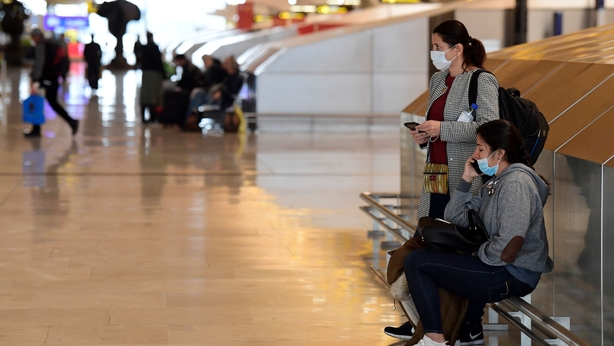 Meanwhile, the Tánaiste and the Northern Ireland Secretary have held talks on the response to Covid-19 and the actions being taken by the two governments.
Simon Coveney, and Brandon Lewis spoke by phone this afternoon.
A statement issued on behalf of both governments said the two men welcomed the leadership and concerted action being taken by the Northern Ireland Executive in response to the crisis.
They agreed there was a clear need for continued strong cooperation and coordination north/south as well as east/west in support of these efforts.
They also discussed the recent UK government proposals on how to deal with the legacy of the past in Northern Ireland, and the need for early and detailed engagement on how to move forward together on the issue.