Gardaí have urged people to "stop and think" before giving away data which could be used to defraud them.
Detective Inspector Mel Smyth said the problem of cyber fraud and other types of fraud is a growing one.
He said those involved in such crimes include career criminals, organised crime gangs, opportunists, and sometimes people in debt or have addiction problems and need to find money.
Speaking at a seminar in Clonmel, Co Tipperary, he said "data is cash" and he urged people not to give any data about themselves to someone they do not know or trust.
Some of the methods used by cyber-fraudsters include:
phishing, attempting to gain bank details by email by purporting to be from a legitimate organisation;
vishing, using internet telephone services which appears to be from an Irish number;
smishing, contacting somebody by text and inviting them to click on a link which may purport to be a survey or a tour.
"The goal is to get victims to act," according to Detective Inspector Smyth of the Garda National Economic Crime Bureau.
"The data creates the opportunity to get cash."
Fraudsters "will be plausible enough to convince you to give them details that will allow them to set up an account," he said.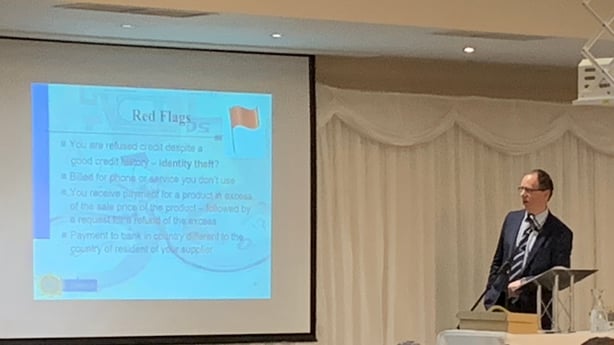 An example would be somebody purporting to be from Revenue and telling a potential victim that they are entitled to a rebate, but need to provide personal details to avail.
Other examples of fraud include social engineering, where people use social media to get to know somebody's interests and profile and eventually gain their trust.
Romance fraud, which was highlighted recently by gardaí, involves fraudsters making contact with people via internet dating services, gaining their trust and eventually persuading them to part with money, without ever meeting.
"Stop and think before you act," Detective Inspector Smyth said.
"In most cases of fraud, it does require the victim to do something. That might be something to do with their bank account, such as an account number of PIN, or date of birth or address. That could allow the criminal to gain access to your account."
He also highlighted the problem of "invoice re-direct fraud" which involves a business receiving a communication purporting to be from a regular supplier, and asking them to send payment to a new bank account.
If such a payment is made, it is quickly withdrawn or transferred and the victim does not realise until the genuine supplier contacts them.
Emails can be hijacked as well, for this purpose, inviting customers to make payments to a different bank account.