In the final week of September 2019, a month after his 83rd birthday, Seamus Mallon agreed to feature at the annual Arts Festival in Clifden, Co Galway. The Saturday morning event was scheduled for the custom-built theatre in the local Station House Hotel.
But such was the demand for tickets, the organisers, Brendan Flynn and Des Lally, had to change the venue to the local Catholic church, Saint Joseph's.
It was the correct call because the visitor from Co Armagh attracted a full house.
For much of the last quarter of his life, Seamus Mallon was often frustrated, angry and, at times verging towards bitter.
He had witnessed the eclipsing of the party he helped nurture and drive – the SDLP. He observed the rise of Sinn Féin and the identical pattern in unionism, where the UUP were systematically outmanoeuvred by the DUP.
He regularly took a swipe at successive Irish and British governments over what was happening. Disillusionment became a consistent theme in his conversations.
But in his final two years, Seamus Mallon saw and enjoyed a rebalancing of sorts. He rediscovered the habit of doing something that actually came natural to him – to smile and to be content.
In the end, he had an abundance of reasons to go gentle into that good night.
The change he welcomed
2018 was arguably when the plates began to shift in a positive way. He was among the old guard, including Bill Clinton, Bertie Ahern, Peter Robinson, Gerry Adams, David Trimble, Reg Empey, George Mitchell, Jonathan Powell, Paul Murphy, Monica McWilliams and John Alderdice who gathered at an event in Belfast's Queen's University to mark the 20th anniversary of the Good Friday Agreement.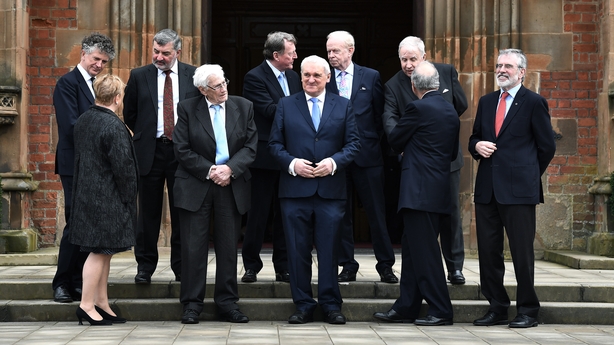 Power-sharing at Stormont was 15 months in mothballs at the time and Mallon didn't hide his antipathy towards the two main parties.
"From an agreement that we squirmed and twisted to get inclusivity and after many years of unionist superiority, what we have got now are two silos, two political silos."
But at a Good Friday Agreement event in Dublin's Unitarian Church on 30 March 2018, where the names of all the victims of Northern Ireland's Troubles were read out, Seamus Mallon's challenged but unbroken optimism surfaced.
"We have got an agreement, the Good Friday Agreement – some people say that it has been damaged, that it is finished. It is not. It hasn't yet really begun. And I would make a plea that we all instead of talking about an end to it, that we look upon it as a new beginning".
In May 2018, he was given the Freedom of Drogheda. That autumn he returned there as a Freeman to publicly support a second Aras term for Michael D Higgins at a campaign rally.
Seamus Mallon speaks of 'a new beginning' for Northern Ireland and the Good Friday Agreement pic.twitter.com/P5v6weGUf8

— RTÉ News (@rtenews) March 30, 2018
Another significant source of positive energy and renewal for him was his collaborative work with journalist, Andy Pollak and former diplomat, Tim O' Connor on his book, 'A Shared Home Place'.
Its publication in March 2019 and the resultant publicity triggered a revival of interest in the Mallon brand. He was again a sought after speaker and chat show guest.
A memorable aspect of the book is his account of the impact of killings and violence he saw, close up.
He also outlined, in some detail, why he felt that the 50% plus one rule that applied in the Good Friday Agreement Referendum (and Brexit) should not be used if and when a border poll arises.
Controversially, Seamus Mallon, a significant contributor to the Good Friday negotiations, was advocating for a more weighted majority system on the question of reunification.
He found new energy for what was effectively one final spin around the dance floor. His son-in-law, Mark, daughter Orla and a clutch of other close friends became drivers or travelling companions as he was in demand again.
The joy moved to a new level with the December 2019 Westminster elections and the success of two SDLP candidates, party leader Colum Eastwood in Foyle (Derry) and Claire Hanna in South Belfast.
After the wipe out of 2017 when the SDLP lost its three seats held by the then party leader, Alasdair McDonnell and two former leaders, Margaret Ritchie (South Down) and Mark Durkan (Foyle), it was back in business again.
This year brought the return of Stormont after three years of stagnation and a five-party power-sharing executive, including the SDLP.
Early in January when he was back in a bedroom of the family bungalow at Markethill, he was visited by the party's two MPs and its soon-to-be Stormont minister, Nichola Mallon. He made a point of telling his namesake that she could be such an important force for the party at local level.
On Saturday 19 January, the former Ulster Unionist party leader, David Trimble, drove from his home to have a final conversation with his sometimes foe, sometimes partner in a fragile power-sharing administration. It was a fitting and moving gesture of reconciliation.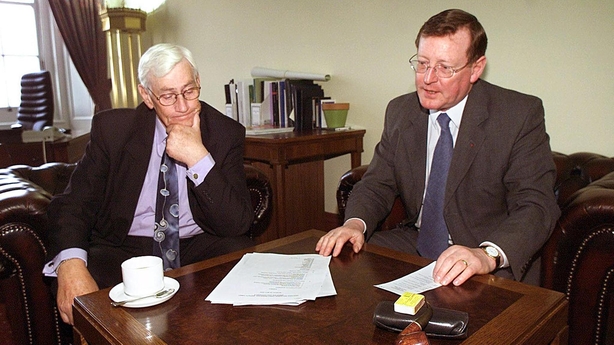 Early life and career
He was born in August 1936. His father, Frank, was the principal of Coolmillish primary school in Mullaghbrack Co Armagh. A teetotaller all his life who went to bed every night at 9pm, two traits he did not pass on to his son.
But in 1946, the father brought the boy to the All-Ireland final between Kerry and Roscommon in Croke Park. A love of the GAA was born and it endured.
His mother, Jane O'Flaherty, was from a strongly Republican family in Castlefinn, Co Donegal. Her three brothers were active in the IRA during the 1916-1923 and the experience made her disillusioned with the realities of armed struggle.
Nature and nurture fostered similar instincts in Seamus Mallon as he grew up and settled in a unionist community.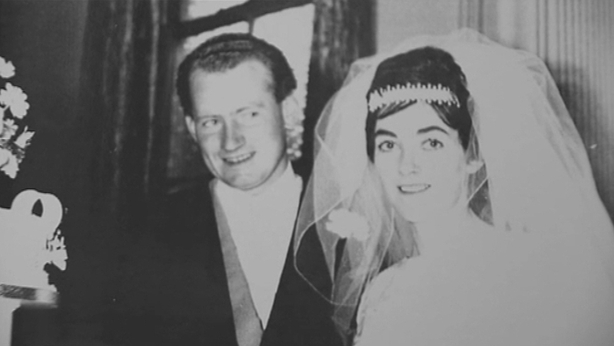 A qualified teacher, he was drawn to the civil rights movement and the SDLP in the late 1960s.
The girl he met when he was 15 and married in 1964, Gertrude Cush, was the breadwinner for some of their early years together. She nursed in Armagh City Hospital while he concentrated on what was unpaid but busy political activism.
Seamus Mallon's defining trait was his antipathy towards violence from any quarter. He called out republicans in the same way as he called out loyalists. Just as he attended the funerals of RUC officers and UDR members, he was relentless in pursuing the state where there was evidence of collusion or other crime.
He continued to live in an area where murders frequently took place, but he never let the issue of personal safety curtail his instinct to publicly criticise and pursue wrongdoers.
He regarded the post Sunningdale power-sharing administration led by Unionist Brian Faulkner that buckled under Loyalist pressure in 1974 as a lost opportunity.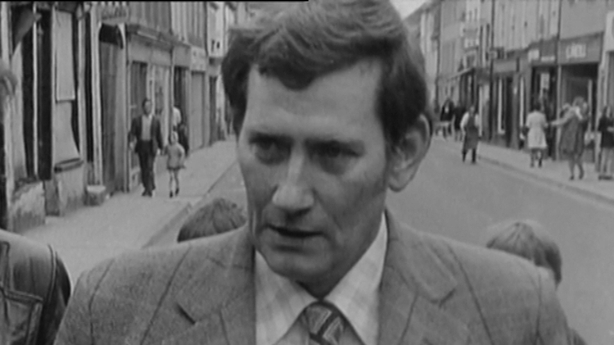 It was 24 years later that he would call the Good Friday Agreement the "Sunningdale for Slow Learners".
In 1986, he was elected to Westminster in the Newry and Armagh constituency, unseating the unionist Jim Nicholson, and he remained an MP until his retirement in 2005.
He took to the House of Commons role and was respected for his qualities by many political foes. In political discussions or card sessions that often spilled into the small hours, Mallon, cigarette-in-hand, glass close by, made for great company.
He had a complex, important relationship with John Hume, who took over the SDLP leadership from Gerry Fitt in 1979. If the Adams/McGuinness partnership at the head of Sinn Féin was against most patterns devoid of tension, the same could not be said about Mallon and Hume.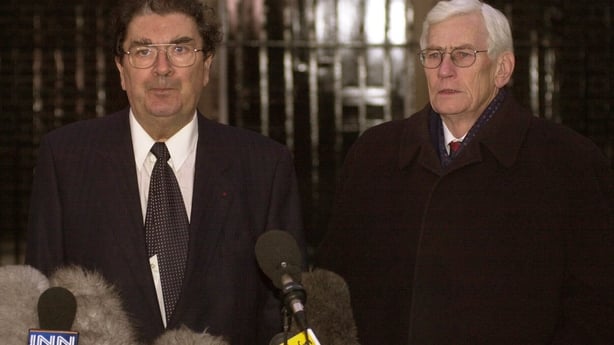 They were different in some fundamental ways – Mallon, more a believer in structure and process was often frustrated by Hume's habit of acting instinctively, sometimes unilaterally or secretively. But on Hume's most significant decision – to talk to Gerry Adams and bring republicans into the political process – Mallon reluctantly backed him, probably because he suspected the peace that followed would come at a heavy political price for the SDLP.
John Hume accepted the political logic that not he but Seamus Mallon should form the deputy first minister/first minister partnership with Ulster Unionist party leader, David Trimble in the power-sharing government that flowed from the 1998 Good Friday Agreement.
It was a relationship that, like the administration, was often under strain. The chemistry between Mallon and Trimble and their respective parties was limited. Their political foes, Sinn Féin and the DUP, were gathering strength. The fragile centre could not and did not hold.
A desire to spend more time with his family influenced his retirement from public life. He did not contest the Stormont Assembly elections in 2003 and stood down from Westminster two years later. With his wife, Gertrude and their daughter Orla, he began to spend more time on the golf courses of north Donegal.
Dáil politicians travelling north regularly detoured to Markethill to visit him. On foot of a Charlie Haughey nomination, he had served in Seanad Éireann from May-November 1982 and he participated in the Dublin-based Forum for Peace and Reconciliation. The truth about Seamus Mallon was he had friends and admirers in most parts of the island.
Gertrude's death in October 2016 shook him. The substantial cough, cultivated by decades of smoking, became a more regular feature.
Then came that 'Indian summer', which brought some balance and lift to what had been an eventful, committed life.
"For The Record", the 2014 RTÉ television documentary made by John Bowman and Anne Roper, gives a sense of him.
"A Shared Home Place" the book written with Andy Pollak is very much his voice.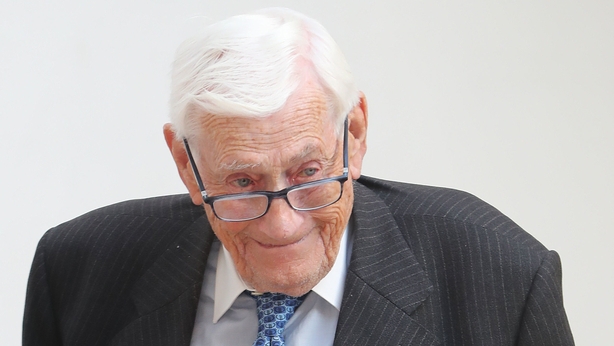 went to see him, along familiar roads, for a final time earlier this month. He was in bed. He had TG4 on and he was watching All-Ireland club matches.
He matter-of-factly went through the details of the cancer diagnosis and the extent of this disease.
We chatted about the huge turnout in the Clifden church where I had interviewed him four months before.
He then told about an impromptu book launch arranged in his second home, the birthplace of his mother.
"Typical Donegal" he said. "They didn't buy one book each … they bought six."
And then, after a pause, he smiled.
In the latter stages of his life, Martin McGuinness became a believer and practitioner in generosity.
Even in the darkest of times, Seamus Mallon refused to give up on it.