The publication of an Air Accident Investigation Unit (AAIU) report into the 2017 crash of Irish Coast Guard Rescue 116 helicopter has been delayed pending a new review.
The AAIU circulated a 333-page draft final report in November and was expected to publish its final report on the accident this month.
The search and rescue helicopter crashed into Blackrock island off the Co Mayo coast in the early hours of 14 March 2017.
All four crew members - pilot Dara Fitzpatrick, co-pilot Mark Duffy, and rear crew Paul Ormsby and Ciarán Smith - died. The bodies of Mr Ormsby and Mr Smith have not been recovered.
The helicopter had been dispatched to provide assistance to another helicopter, Rescue 118, that was retrieving an injured fisherman from a trawler in the Atlantic Ocean.
The Department of Transport, Tourism and Sport has told RTÉ that it is currently making arrangements to establish a board to review the draft report at the request of "a stakeholder".
The law governing air accident investigations allows any person or organisation to seek a re-examination of "any findings and conclusions" that appear to "reflect adversely" on their reputation.
However, this is the first time for an AAIU report to be referred to a review board in the AAIU's 25-year history, during which it has carried out nearly 1,000 investigations.
The Department of Transport declined to identify the entity that requested the review.
However, RTÉ understands its objections centre around some of the 73 findings of the report rather than the content of the investigation itself.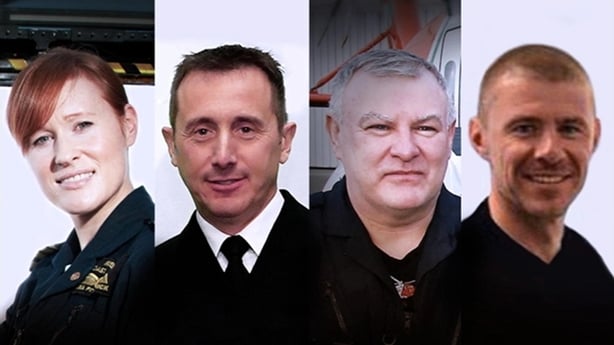 AAIU enquiries are protected by highly restrictive legislation that makes it a criminal offence to reveal details prior to publication of an air accident investigation draft final report.
After the Rescue 116 accident, it emerged that the Irish Aviation Authority, was unclear about its role in regulating the search and rescue sector.
Additionally, safety issues at the helicopter operator, CHC, were focused on by RTÉ's Prime Time, including an alleged failure to adequately deal with safety complaints.
It also emerged that Blackrock island was not included in a database designed to warn the crew they were in danger of hitting land.
RTÉ understands that CHC made a detailed submission to the AAIU about its draft report. The company did not say if it was the entity that demanded the review.
In a statement, a CHC spokesperson said it would "continue to engage fully with the Investigation".
The Irish Aviation Authority said it was "not aware of which party requested the review."