Former president of Ireland Mary Robinson has said she will remember veteran RTÉ broadcaster Marian Finucane as a "trailblazer", who leaves behind a "great legacy".
The death of Marian Finucane was announced yesterday evening. She died suddenly at her home aged 69.
Mrs Robinson, who currently serves as Chair of the Elders, praised the presenter's charitable work in Africa and her passion for dealing with women's issues, over a career spanning more than four decades.
Speaking on RTÉ's Morning Ireland, she said: "I remember when I first learned about her charitable foundation, she'd gone to South Africa and seen the poverty in Eastern Cape, which I've also seen.
We need your consent to load this rte-player contentWe use rte-player to manage extra content that can set cookies on your device and collect data about your activity. Please review their details and accept them to load the content.Manage Preferences
"It's one of the poorest parts of South Africa, which is a very unequal society as we know, even in the post-Apartheid era. She has done great work, she and her husband John, and Jack. They've really helped so many children who were victims of HIV and AIDS.
"It may seem a small thing, she thought it was quite a small thing, but it wasn't - it affected many children over the years. It's a great legacy."
We need your consent to load this rte-player contentWe use rte-player to manage extra content that can set cookies on your device and collect data about your activity. Please review their details and accept them to load the content.Manage Preferences
Ms Finucane started presenting a radio programme called Women Today in 1979, which delved into women's issues for the first time on the national airwaves.
Mrs Robinson said: "I remember her as a trailblazer. I remember when Women Today started in 1979, and what a difference it made, because we had a lot of issues. We had a lot of issues to talk about, from family planning to Cherish for single mothers, to discrimination in employment - you name it.
"The interesting thing that I learned from Marian herself at one stage was she was aware that her 2 o'clock programme was often listened to by men, who would go home for lunch and stay on just to listen, and at the start of Liveline, they continued to listen."
She said the men would not admit it, but be fascinated by the pioneering women's programme.
"She had an empathy and this conversational tone, but her questions were very perceptive, very acute, and at times very fearless and very honest. And that's I think why people trusted her so much. She did have the capacity to draw people out," Mrs Robinson said.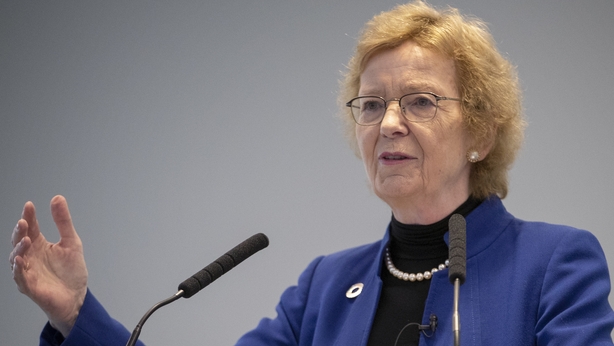 Ms Finucane made a documentary in 1979 in which she followed a woman travelling to England for an abortion, which Mrs Robinson described as "absolutely unusual" for the time and "unprecedented".
"It was only more recently that women felt they could tell those stories," she said.
"It was very important leading up to the recent referendum that women were heard for the first time properly, and in numbers, and educated us to what it was like to have to go abroad for a termination of pregnancy. So it was a very very courageous thing to do, and that was Marian."
She will be remembered because of her trailblazing work, said Mrs Robinson, because "she was brave, because she was honest, she opened up issues in a way that was really important. She's remembered rightly for work on women's issues but she went far beyond that".
"She always kind of moved agendas. And Women Today was a very significant move, to allow women to present, women to be producers and presenters on a radio programme. That was new to RTÉ as I understand it, and really significant.
"She wasn't afraid of church or state. She was some woman."
A book of condolence has been opened at the reception of the RTÉ Radio Centre in Donnybrook.
---
Listen to Mary Robinson's interview on Morning Ireland
We need your consent to load this rte-player contentWe use rte-player to manage extra content that can set cookies on your device and collect data about your activity. Please review their details and accept them to load the content.Manage Preferences
---
Founding producer of Women Today and former RTÉ Radio Managing Director Clare Duignan said Marian Finucane gave women the power to tell their stories.
Ms Duignan worked with Marian for most of her career in RTÉ: "We met when we were both young and hungry broadcasters in RTÉ Radio in the late 1970s.
"Like many people that worked with her, we became friends and she remained a lifelong friend.
"She was a great and shining talent right from the beginning.
"I was asked to produce the radio programme Women Today in 1979 after senator Gemma Hussey challenged RTÉ to find space on the radio broadcast schedule for issues of concern to women," Ms Duignan recalled on Morning Ireland.
"She shared the whole team's passion, to cover these stories, to give a voice to the women of Ireland and to make the agenda of women's equality part of the mainstream news agenda.
"And she did it with great passion and great intelligence but above all, great warmth ... and understanding for the lives of ordinary people and the listeners," Ms Duignan said.
"Marian was the first to take that presenter seat and control the radio program, and to be the person that people completely associated with what the program was covering."
RTÉ Chair Moya Doherty said "we cannot overestimate how rare it was to have a woman as a dominant voice on radio, when she took over from the Gay Byrne Show."
"The last experience I had with Marian, she was her tenacious, marvellous, probing, curious self.
"I went into the studio as Chair of RTÉ, to answer questions that she so diligently and thoroughly put to me, about changes and reform within RTÉ.
"We had a robust 40-minute discussion and later that evening, unbeknownst to me and indeed unbeknownst to Marian, we both ended up under the same roof, at the same dinner table of a mutual friend.
"She walked straight through the door, straight over to me, we embraced each other and we sat down and we spoke, about the real issues".
Ms Doherty said Marian had the ability to understand someone's situation in an empathetic way, but able to keep her emotions out of it "and ask the most challenging questions, to produce profound insights."
She said Marian's talent was rare and she had the ability to hold a mirror up to ourselves.
"Marian's talent doesn't come every day and it is to be respected and nurtured, and I think there are people today - the work that Marian did and Gay did, people like Joe Duffy - who continue to hold that mirror up to ourselves."
"Today is a day to celebrate that talent, and to celebrate the talent of Marian and of Gay".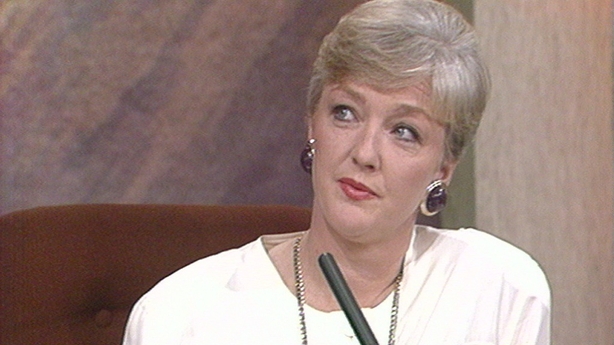 Head of RTÉ Radio 1, Tom McGuire, said the team was expecting Marian in studio tomorrow morning as usual.
"Marian was back at work - she had been on a holiday in India, at a friend's wedding. She had been looking forward to it all through last year and we were looking forward to having her back on air tomorrow morning," Mr McGuire said.
Yesterday at 3pm, a routine call was made to Marian to check in that she was ready for her programme on Saturday.
"There was no reply from Marian's mobile. We didn't think anything untoward at the time, we would just check back later. And then the call was repeated at sometime after half past three and her dear husband John answered Marian's phone, and it was then discovered that Marian had died in her sleep," Mr McGuire said.
Mr McGuire said there are fewer people working in RTÉ at the weekend, which led to a closer-knit team.
"Monday to Friday you've got other colleagues. You have a bank of knowledge that you can share. On Saturday mornings, there is less support there so I think that probably meant that there was a closer bond, within the programme team, and Marian was great with her programme's team," Mr McGuire said.
He said that she worked a seven day a week, 365 days a year job.
"Her depth of knowledge of national, international and world affairs of culture and society was just beyond anyone else's knowledge," Mr McGuire said.
RTÉ has announced that The Marian Finucane Show will be presented by Rachael English on Saturday and Brendan O'Connor will present the programme on Sunday.
RTÉ said Saturday's two-hour programme will feature tributes from Ireland and around the world from colleagues and friends and will reflect some of Ms Finucane's best moments in broadcasting.