The Chairman of the board of the National Children's Hospital has told a Dáil committee that construction of the hospital has been delayed by a few months and the current cost of the entire project of €1.73bn may run over again.
Fred Barry told the Public Accounts Committee the cost of the hospital will go over budget by between €2m and €2.9m for this year due to construction inflation.
The current cost of the entire project is €1.73bn after being initially estimated at €650m.
Mr Barry said that if inflation is over 4% there will be extra costs over the guaranteed maximum price of €1.433bn due to inflation costs.
He said that inflation costs are running at about 7%, so he said it would be a certainty that costs would go up as a result.
He said that if inflation runs at 7% for the life of the project, the total additional cost would be in the order of €50m and if inflation is higher it will be more.
Mr Barry told the committee there were residual risks for increasing costs in areas including changes to the design, inflation and regulations.
Mr Barry said that if inflation is less than 4% the State would not get money back, but if it is above 4% we would have to pay the difference.
We need your consent to load this rte-player contentWe use rte-player to manage extra content that can set cookies on your device and collect data about your activity. Please review their details and accept them to load the content.Manage Preferences
Sinn Féin's David Cullinane asked why the risk is being carried by the State and not the contractor, to which Mr Barry responded that it is unlikely to get a contractor to accept an inflation risk if the contract goes on for a number of years.
Mr Barry repeated that there would be increased costs associated with the building of the hospital due to construction inflation.
---
Read more:
Concern grows over final costs for new children's hospital
Review over new children's hospital warns final cost could exceed €1.7bn
HSE spent €11.2m in consultancy fees for National Children's Hospital in 2018
Cost of building NCH could reach €2 billion, says Shortall
---
Mr Cullinane pointed out that if there is going to be an additional cost it should be made public.
He asked why a section of the minutes of a meeting relating to inflation costs had been redacted and asked if the board did not want the PAC to know about additional costs relating to construction inflation.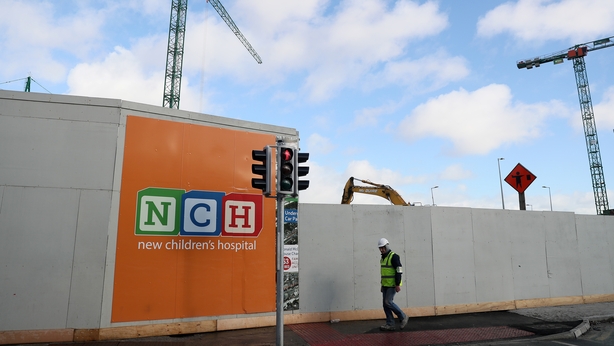 The board of the hospital has said it was working to manage the costs of the facility.
In his opening statement, Mr Barry said that there were risks to the cost, some within the control of the board and some that are not.
Mr Barry told the committee that construction is in progress with the underground car park nearing completion and he said the first window has been installed in the hospital.
Sinn Féin's Imelda Munster asked if the board was at a disadvantage because of a lack of specialised experience in this area.
Mr Barry said he was "gobsmacked" by this remark, adding that he was experienced in the management of large scale projects.
He said he accepted there may be others much better than him at the job, but he said he was asked to do it. He said he was not before the PAC to interview for the job.
Mr Cullinane said he did not like witnesses taking a casual approach to the PAC and getting "irritated" when questions were put to him.
Independent TD Catherine Connolly asked if the National Children's Hospital could cost as much as €2bn.
In response, Mr Barry said the final cost of the hospital would depend on how events unfold in relation to residual risks.
He said "theoretically, things could cost anything". However, he said it was "highly improbable" that the hospital could cost €2bn.