Gay Byrne's funeral cortège will travel from Howth to Dublin city centre and back to Sutton tomorrow, giving the public a chance to pay their respects to the legendary broadcaster on his final route home.
One of Ireland's most recognisable personalities and the man affectionately known as 'Uncle Gaybo', Gay Byrne died on Monday after a long illness.
Before the funeral mass at 11.45am tomorrow, the cortège will pass through Howth village at around 11am, and then proceed down the Howth Road to Sutton Cross, heading down the coast road onto the Clontarf Road.
It will then pass over Annesley Bridge and proceed onto the North Strand Road, travelling to Amiens Street and over the quays at the Matt Talbot Memorial Bridge.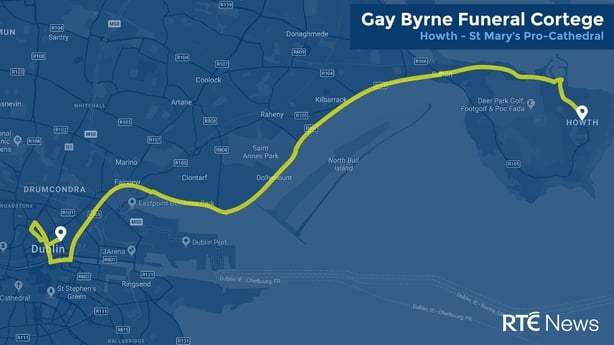 The cortège will continue along the south quays and turn right at O'Connell Bridge onto O'Connell Street, proceeding to go completely around Parnell Square.
It will turn left onto Cathal Brugha Street and then right onto Marlborough Street, for the funeral mass at St Mary's Pro Cathedral.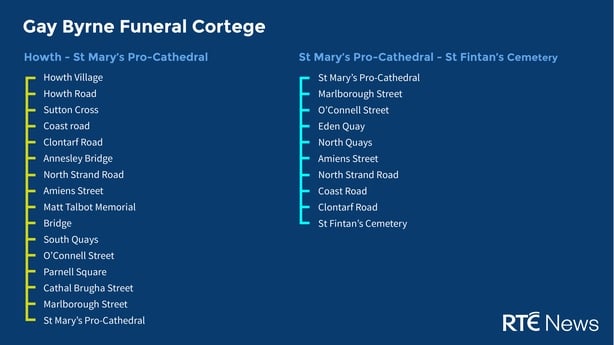 After the mass, the cortège is expected to leave the cathedral sometime between 1pm and 1.30pm.
It will return back towards Cathal Brugha Street and O'Connell Street.
At the quays, the cortège will turn left onto Eden Quay, heading up the North Quays towards Amiens Street and onto the North Strand Road.
It will then return along the same coast road via the Clontarf Road to St Fintan's Cemetery.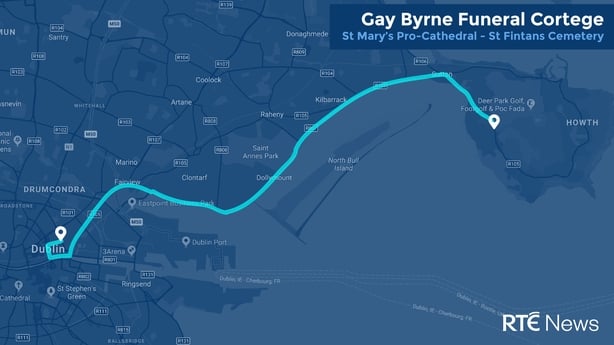 The funeral mass will be celebrated by Fr Leonard Maloney SJ, with Archbishop Diarmuid Martin participating and leading the prayers of final commendation. Fr Kieran McDermott will receive the remains into the cathedral.
Music will be performed by the Palestrina Choir.
Access to the Pro Cathedral will be extremely limited, with seating reserved for family and friends. Those attending the mass are asked to be in place by 11.15am.
The funeral will be broadcast live on RTÉ television and online. Beginning at 11.30am on RTÉ One and RTÉ News Now, Bryan Dobson will present the special programme, while Mary Kennedy and John Bowman will provide commentary for the ceremony.
The coverage will be streamed live on RTÉ Player and on RTÉ.ie, and will be available to audiences worldwide.