There has been strong reaction to the announcement by RTÉ that production of its national classical music and arts service Lyric FM is to end at its Limerick city base and be moved to Dublin and Cork next year.
The move is one of a series of measures announced by the broadcaster to tackle its financial crisis and reduce projected costs by €60m over the next three years.
Lyric FM has been based in Limerick for 20 years and employs up to 30 people, many who live in Limerick and Co Clare.
Limerick Fine Gael TD Niall Collins described the news as "devastating".
In a statement, he said: "Lyric FM was the one part of the RTÉ organisation which was decentralised successfully and now is a victim of its own success.
"I would ask the RTÉ Authority to reconsider this decision as the savings being generated don't seem material in the scheme of the overall RTÉ cost base.
"Limerick is Ireland's third largest city and to think that our national broadcaster would not have a base in the mid west region is unbelievable. Operating a news and current affairs service can't simply be done from the boot of a car or the side of the road."
Although the production of Lyric FM in Limerick will cease, a new studio will open in the city for news coverage.
Director General Dee Forbes said there would "regrettably" be a loss of some staff in the movement of Lyric staff from Limerick to Dublin.
Meanwhile, Taoiseach Leo Varadkar has said issues within RTÉ need to be resolved.
Speaking in Clondalkin this afternoon, Mr Varadkar said he is happy to discuss the issues with the RTÉ Board.
He said RTÉ's issues are about much more than the licence fee and that the Government wants to be part of the solution.
Tánaiste Simon Coveny said that public service broadcasting is more important that ever before to a functioning democracy.
Speaking in the Dáil, he said that audiences are transitioning from traditional forms of media.
In the longer term he said it is not appropriate to base a licence fee on TV ownership.
However, he added that commercial revenue at RTÉ has been relatively stable since 2013 but operating costs have increased.
He said that RTÉ must change how it operates to cater for what media consumers now want.
Mr Coveney said that Government only received the "complete" financial plan from RTÉ this morning and Minister for Communications Richard Bruton must now examine it.
Fianna Fáil Deputy Leader Dara Calleary accused the Government of allowing "good media" die on the vine while it whistled by the graveyard.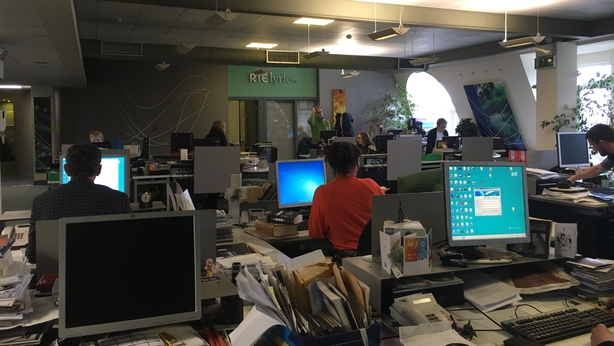 In other reaction, Labour TD Jan O'Sullivan said the Lyric FM decision must be fought.
She said: "RTÉ is a national public service broadcaster and not a Dublin public service broadcaster.
"Lyric FM is part of the cultural fabric of Limerick and I cannot see how a once off windfall from closing the studio will generate enough money to cover the organisation's financial difficulties.
"Cuts alone will not restore the viability of the broadcaster and the Minister for Communications needs to seriously look at the funding model for public service broadcasting in Ireland."
She was supported in her comments by party colleague, Tipperary TD Alan Kelly.
Mayor of Limerick Michael Sheahan has called for a meeting with the Ministers for Communications and Culture to try and reverse the plans for the headquarters of Lyric FM.
Mayor Michael Sheahan said: "The news that RTÉ are closing their Limerick offices and moving production of Lyric FM to Dublin and Cork is very disappointing. The establishment of RTÉ Lyric FM in Limerick in 1999 was seen as an important step forward in the regionalisation of the national broadcaster and the cultural life of Limerick.
"Limerick has embraced Lyric FM and it has been seen as a badge of honour that the national station was based in Limerick. There was always a sense that Lyric was edgier and more innovative as it was located away from the shackles of Montrose," he said.
"Lyric has given so much to energise the cultural life of Limerick. Ironically, producers and presenters came from both Cork and Dublin to live in Limerick to set up Lyric FM," added the mayor, saying "they have embedded themselves in Limerick life".
"I would urge RTÉ to look again at the decision to move Lyric FM and the impact it will have on the people whose jobs are now under threat. RTÉ must keep Lyric FM and the regional studio in Limerick in the interests of regional diversity and development."
Fine Gael Senator Maria Byrne, who visited Lyric FM staff in recent weeks to discuss their fears, said the move was "most disappointing".
In a tweet, she added that: "RTÉ must show that they have a commitment to regional development outside of Dublin. There is a lot of experience & talent in Limerick! We need to fight this together."
Following confirmation to me tonigh @rte are proposing closing @RTElyricfm Limerick. This is most disappointing. RTÉ must show that they have a commitment to regional development outside of Dublin. There is a lot of experience & talent in Limerick!we need to fight this together.

— Senator Maria Byrne (@senatormbyrne) November 6, 2019