Minister for Justice Charlie Flanagan has asked for "the siege to be lifted in Achill".
He was speaking on RTÉ's News at One in light of ongoing protests at the site of the Head Hotel in Pollagh.
The hotel had been selected as a location to provide emergency temporary accommodation for asylum seekers.
Yesterday, the Department of Justice and Equality put off plans to house 13 women in the hotel due to ongoing protests at the site.
The minister urged demonstrators to engage in dialogue with his department to help protect "vulnerable people".
We need your consent to load this rte-player contentWe use rte-player to manage extra content that can set cookies on your device and collect data about your activity. Please review their details and accept them to load the content.Manage Preferences
He said protests against direct provision were "misguided" and that Ireland was "morally obliged to offer protection to people who come to our shores without notice".
Mr Flanagan said that he believed there was a small group of people "whipping up anti-immigrant sentiment", which he said was not the view of the Irish people.
He said: "Unfortunately there is an insidious alt-right engagement here.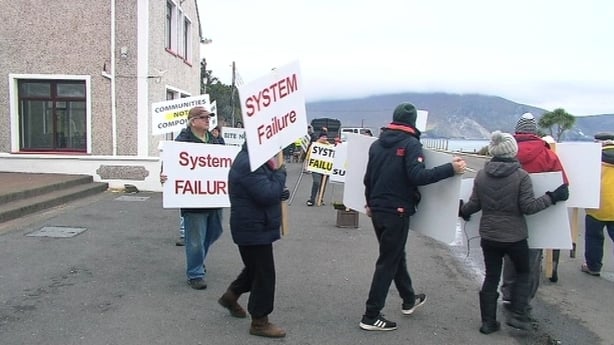 "It is small, it is vociferous and it is acting very unfairly by whipping up anti-immigrant sentiment that is fundamentally unfair and not representative of the welcome that the Irish people are noted for.
"I'm afraid that that is at stake now when we see people protesting holding placards about inhumanities that really don't exist."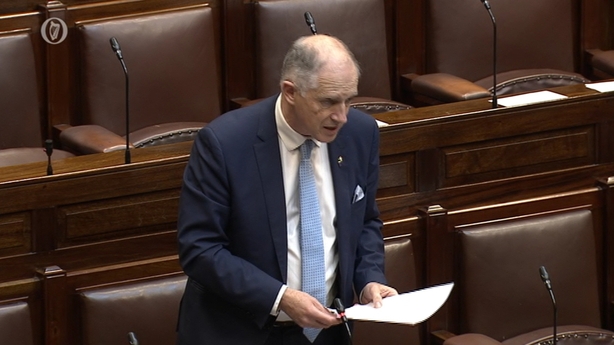 In response to Mr Flanagan's statement, a spokesperson for the group demonstrating in Achill that the demonstration is "in no way a siege", that it is a "peaceful silent protest, from 90 percent of the village's population."
Monica O'Gorman, speaking to RTÉ's Drivetime, also said the demonstrators would welcome any engagement with the Department of Justice.
She said however that until now there has been a "lack of clarity" on plans to protect the women, and on whether they have been through adequate "vulnerability assessment."
Meanwhile, the Movement of Asylum Seekers in Ireland said "people are scared when they see that an Irish TD's car is being torched because he is siding with asylum seekers".
Speaking on RTÉ's Six One News, Lucky Khambule said "people are coming to this country to feel protected but instead they are seeing people spread messages of hate".
Mr Khambule said: "People are scared to call this racism. I say, why not?"
He added that The Movement of Asylum Seekers in Ireland has not been contacted by any of the protest groups who claim that plans for emergency accommodation in their area is inhumane.
Earlier, the Minister with special responsibility for Equality, Immigration, and Integration, David Stanton, called on demonstrators in Achill to stand down their protest, appealing for solidarity with the people who need help.
"We're better that this in Ireland, across our country, we're better than this, all of us."