At least half of all speed camera operatives employed by GoSafe will go on strike over the bank holiday weekend.
This is despite company claims that agreement has been reached on new rosters, according to their union SIPTU.
However, An Garda Síochána warned motorists that it will continue to enforce speed limits by plugging staffing gaps created by the dispute.
GoSafe, which operates the speed camera service under a Government contract, acknowledged that there could be some disruption from industrial action, but said it was working to ensure any disruption was "minimal".
Earlier today, the company issued a statement saying that management and the internal staff representative body had reached a proposed new agreement on both pay and service rosters.
However, SIPTU Organiser Brendan Carr said there had been no negotiation with the union, despite the fact that over 50% of van operatives were members who wanted the right to be represented by SIPTU.
The union membership figure was disputed by company sources, who estimated only up to 30 of the company's 130 employees were "SIPTU-leaning".
Those sources said GoSafe had operated an engagement model with the existing staff representative body for some time, and expects this will continue, but added the company was open to extending it within a framework "...which may, if agreeable to management and staff, accommodate SIPTU".
They said that the company had written to SIPTU on five separate occasions over the past six months (via the employers' body Ibec) to explore how the current staff representative body and SIPTU could work together for the employees they represent.
They said SIPTU had responded both in writing and in meetings that it would not engage with or acknowledge the current staff representative body or accept any framework which included it.
It is understood the union position was that it could not accept negotiations between SIPTU and management which could be influenced by a negotiation body who were not members of a trade union as this could lead to difficulties throughout the negotiating process.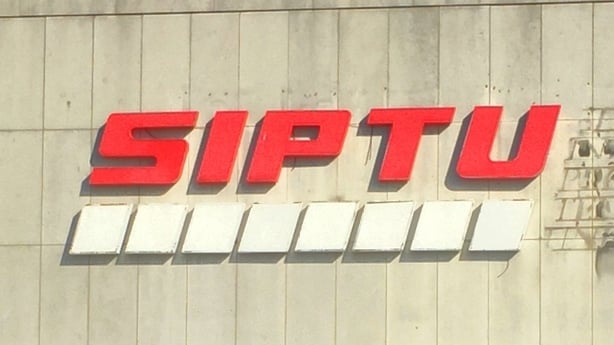 In a statement today, Mr Carr said the GoSafe dispute highlighted what he called "...the unacceptable practice of Government departments and agencies issuing contracts for State services to companies which refuse to engage with the industrial relations bodies of the State".
He noted that Minister for Justice Charlie Flanagan had already indicated that he cannot intervene in the current dispute, despite the fact that his department authorised the contract with GoSafe and he is ultimately responsible for road safety.
He also noted that the Labour Court has issued a recommendation saying that GoSafe should recognise SIPTU as the representative of its employees who are union members, but said that had been completely ignored by management.
He claimed the Department of Justice and An Garda Síochána were in breach of the Public Service Stability Agreement in relation to the outsourcing of work to companies who do not adhere to the State's industrial relations procedures and called for the contract to be removed from the company with immediate effect.
Mr Carr said the 72-hour stoppage will commence at 9am on Saturday, coinciding with the annual Garda bank holiday weekend crackdown on speeding.
GoSafe said the three-year pay deal up to December 2022 agreed with the in-house representative body would see pay rise by 9.75%: 3.25% in January 2020, a further 3.25% in 2021, and the final 3.25% in January 2022.
The €3.50 per hour Sunday premium will rise pro rata, and workers whose rostered overtime is subsequently cancelled will still get basic and shift pay for cancelled overtime hours.
There will also be a bonus scheme, and enhanced pension contributions for those with over five years service, who will also get an extra day's leave from January.
GoSafe said the first ballot on the new service roster had been approved by staff - though SIPTU insisted that none of its members had voted to approve the roster.
GoSafe said a second vote on the pay terms will take place by 1 November, and that the process was being overseen by an independent chair.
Announcing the strike some weeks ago, SIPTU had claimed employees were confined to their vans for up to 11 hours, and that shifts were so long that staff were using plastic bottles for toilet breaks.
However, GoSafe reiterated today that "team members can take toilet breaks at any time and are free to temporarily suspend their monitoring activities to facilitate this".
It said its mobile team has access to over 1,200 toilet facility options, as a result of its working relationship with a large number of service stations and An Garda Síochána.
SIPTU members staged a one-day strike last month, and are already engaging in a work-to-rule where they refuse to operates the vans' Telogis computer system which tracks their activity.
Chief Superintendent Paul Cleary of the Roads Policing Section said gardaí will be out in force on all main routes from tomorrow night and regional divisions have been briefed on the need to provide cover for speed camera operators.
He said gardaí will be targeting in particular the younger male motorists who are more likely to be involved in collisions and cited what he called a worrying and dramatic growth in the number of young people being caught for drink-driving.
Over the last year, gardaí have operated 47,000 checkpoints.
The number of motorists caught driving under the influence has risen by 6%, from 5,719 between January and August 2018 to 6,041 in the same time period in 2019.
The number of motorists caught speeding has increased by 12% to 96,000 in the same time period, while those caught using a mobile phone has increased by 8%.