Women and families adversely affected by the CervicalCheck controversy have described the apology by the State as a "watershed moment".
Speaking in the Dáil, Taoiseach Leo Varadkar apologised for the "litany of failures" in how cervical screening in Ireland operated over many years.
In a statement, the 221+ Patient Support Group said: "The State's acknowledgement and apology through An Taoiseach to the women and families adversely impacted by the abject failures of CervicalCheck is a watershed moment.
"It is an acknowledgement from the core of Government that our healthcare system was not patient-centred.
"It is a first step in the process of rebuilding confidence in the capacity of the State to put the patient first in the delivery of public healthcare generally, and for women's health specifically."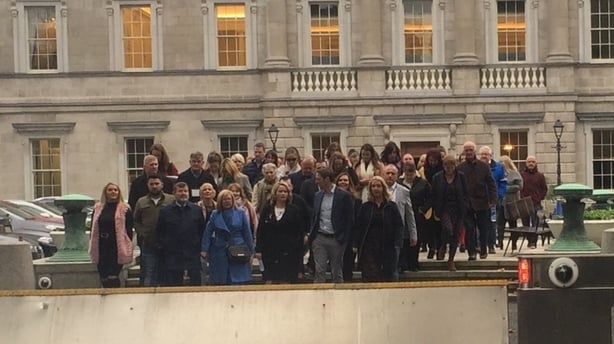 Campaigner Lorraine Walsh said it is the first step in the process of rebuilding confidence in the capacity of the State to put the patient first and said the apology had huge significance.
Vicky Phelan described it as a momentous day saying it will help some women move forward.
However, she said she was disappointed at the number of politicians there to hear the State apology. She said there was far fewer politicians in the House that they would have liked.
Fellow campaigner Stephen Teap, whose wife Irene died from cervical cancer, welcomed the acknowledgement, adding that today was about ensuring that similar events would not happen again in the future.
The 221+ group said: "We have always said however that a genuine and meaningful apology could only be possible when those delivering it have a full understanding of what they were, and are, responsible for."
The group said the apology comes after meetings over recent months between the women in 221+, their partners, their families and the bereaved with the Taoiseach.
"This listening by An Taoiseach was in itself restorative and is deeply appreciated."
The group said today is "about the State taking responsibility for the inaction of the past".
"What must follow is that those with the power to do so will work to establish the governance structures, the oversight, the management capacity and the quality assurance checks which are vital to ensure that these failures will never happen again.
"A blueprint has been established by the work and recommendations of Dr Gabriel Scally, Prof Brian MacCraith and others working alongside them," said the 221+ statement.
"The true success of today will be measured by the resolve we see across the health system to implement all those recommendations.
"Our hope now is for a time in Ireland when no woman will ever again have cause to doubt the availability or the quality of the healthcare they receive from the State."
The 221+ group said that for people who continue, or are to begin "lonely battles" through the courts, it wanted to send its best wishes.
The group said it was with these women and families in their search for truth and justice.