A garda whistleblower has told the Disclosures Tribunal that he was like a "sitting duck" after making a protected disclosure about alleged wrongdoing in the force.
Garda Nicholas Keogh was giving evidence as the tribunal resumed for its final phase at Dublin Castle.
The opening statement detailed the 22 issues in Garda Keogh's complaint that will be considered by the Tribunal.
This phase is looking at complaints made by serving or retired members of An Garda Síochána who allege they were targeted or discredited, with the knowledge of senior garda members, after they had made protected disclosures alleging wrongdoing.
Garda Keogh joined An Garda Síochána in 2000 and was posted in Athlone Garda Station in October 2007.
In 2009, he obtained a post in the drugs unit in Athlone, where he worked until August 2011.
He was still stationed in Athlone when he made the protected disclosure on 8 May, 2014, raising concerns about the operation of the drugs unit in the town.
He also raised concerns about another garda, "Garda A" and his alleged relationship with a woman known as "Ms B", who was allegedly involved in the sale and supply of drugs in the town.
In an intelligence entry to the Pulse system, Garda Keogh recorded seeing Ms B in her car. The entry detailed that Ms B "smiled and stuck out her tongue" upon seeing him.
This entry stated that Ms B "is seriously involved in the heroin trade in Athlone with a turnover of €2,500 per week".
It said: "She has no previous convictions for drugs due to the fact she has been aided and abetted for years by a senior member of the drugs unit, who himself is a close associate of a high ranking garda officer. Fact."
This Pulse entry was the subject of a series of extensive reports over a number of years and the tribunal will look at whether the questioning of Garda Keogh about this issue was legitimate or if it amounted to targeting or discrediting.
We need your consent to load this rte-player contentWe use rte-player to manage extra content that can set cookies on your device and collect data about your activity. Please review their details and accept them to load the content.Manage Preferences
Today, Garda Keogh told the tribunal that the "dogs on the street" knew what was happening in Athlone over alleged garda collusion with drug dealers.
Garda Keogh agreed that he felt that the small fry in the drugs trade were being targeted, while the big fish were being left alone.
When asked why he thought he was being questioned about this Pulse entry, Garda Keogh said he had logged more than 500 intel entries in the pulse system in the past and had never been questioned.
He told the tribunal the fact he had referenced a senior garda in the entry was "the crux" of the matter.
Garda Keogh said that he was a "sitting duck" in the period after making the protected disclosure and said in the first month he was under five investigations.
Garda Keogh has been on sick leave since December 2015.
This followed a period of frequent sickness-related absences that were certified by his GP as being due to "work-related stress".
An investigation carried out by the Assistant Garda Commissioner Dónall Ó Cualáin into the allegations contained in the protected disclosure was completed in November 2015 and stated that while some of Garda Keogh's allegations were plausible and had substance, the evidence was circumstantial and fell short and the DPP later directed no prosecutions.
As part of his complaint to the tribunal, Garda Keogh alleges that there were "serious and deliberate flaws with regard to this investigation", including that there was a delay in starting the investigation and a delay in seizing evidence during which time mobile evidence was erased.
Among the other issues raised in the complaint are claims that following his protected disclosure, he was reduced to desk duty, that he was denied overtime, and denied commendations in respect of three cases he worked on.
Garda Keogh will resume giving evidence at the tribunal tomorrow morning.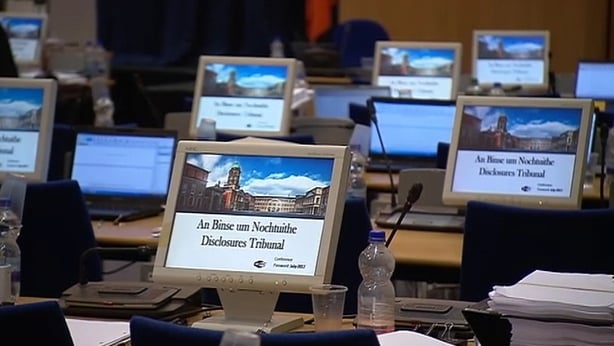 Patrick Marinan, senior counsel for the tribunal, gave an opening statement outlining 22 issues contained in Garda Keogh's complaint, which will be considered by the tribunal.
Among the issues Garda Keogh alleges are that he was the subject of "micro-supervision" by three Garda Sergeants from March 2015, during which he claims everything he did was being "scrutinised in great detail for possible mistakes".
Two disciplinary investigations relating to motor tax issues and sick leave form the basis of two of the 22 issues in Garda Keogh's complaint and the tribunal will consider whether the handling of these matters constituted targeting or discrediting of him.
His complaint also contains a claim that then garda commissioner Nóirín O'Sullivan contacted the District Officer in Athlone, Superintendant Patrick Murray, about him in April 2015.
In a statement to the tribunal, Garda Keogh said other gardaí in the station told him about this, and that he was told other gardaí had been instructed to "pull away from" and "alienate" him.
Ms O'Sullivan has made a statement to say this phone call never took place and that the allegation is "completely untrue and without foundation".
Superintendant Murray also denied ever telling anyone to alienate Garda Keogh.
Garda Keogh also alleges that he was targeted or discredited by being confined to desk duty, that he was denied overtime opportunities and that there was an alleged delay in the payment of his travel expenses.
He also claims that he was denied commendations in respect of his work on three cases, including rescuing a woman from drowning in the River Shannon in September 2015.
Garda Keogh has also complained that his phone was tapped and or that his post was opened.
However, earlier this month, the tribunal was informed that Garda Keogh does not propose to pursue any such electronic inquiry before the tribunal.
Earlier this year, Mr Justice Seán Ryan set out the terms of reference for this phase of the tribunal.
Mr Justice Ryan said that an important limitation on any consideration by the tribunal is that the focus is not on the wrongdoing reported in the protected disclosure, but rather on the conduct towards the garda subsequent to the disclosure.
He said another essential requirement under the terms of reference is that the targeting or discrediting directed towards the whistleblower after the disclosure was condoned or tolerated or known about by senior members of An Garda Síochána.
The first module of the tribunal concerned Sergeant Maurice McCabe, Garda Keith Harrison and Tusla.
The final report into the McCabe matters was completed by Mr Justice Peter Charleton last November.