The Minister for Communications has said RTÉ needs to "transform itself" to respond to changes in the media landscape.
Speaking on RTÉ's This Week, Richard Bruton said the public service broadcaster is "losing advertising revenue quite substantially and they need to seek to shore that up".
He said challenges are happening across the media industry.
Earlier this month, RTÉ Director General told staff the broadcaster's current financial situation is unlike anything it has seen before and it is reassessing everything it does.
In a note to staff, Ms Forbes said the decision to defer implementation of a revised media charge means a crisis in the funding of public service media will continue.
And she said the RTÉ Executive, along with the RTÉ Board, had been reassessing everything the organisation currently does and what it continues to do in the future.
The outcome of the review is expected to be made available in October.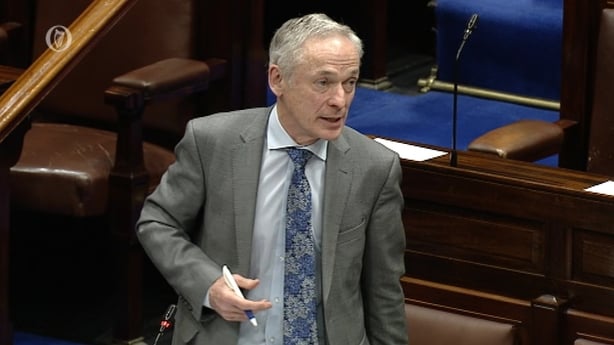 Minister Bruton said RTÉ has to devise a strategy to deliver public service broadcasting in a new environment.
"We do have to see RTÉ respond and find routes that will build its digital content, its digital platforms and make it attractive to younger audiences. Those are real challenges for RTÉ," he added.
On reports in the Mail on Sunday that the broadcaster is considering selling its Cork studio and more of its campus in Donnybook in Dublin, he said "it's up to RTÉ to decide what is the optimum strategy to address its current financial situation".
However, the minister said his department will have to "kick the wheels on any strategy that's developed by RTÉ".
"I need to see that in context and I need to see an overall plan brought forward by RTÉ to see how they are going to scale out their future," he added.
Mr Bruton said: "We want to see quality public sector broadcasting being delivered in a very changing environment and it does present a challenge when you see the very low use of RTÉ's traditional platforms by young listeners and viewers and that is a real worry for the station."
The minister said the strategy to build that up needs to be confronted by the RTÉ board.
"We have to find a route to resolve this. This isn't about finding some pot of money. This is about responding to audience changes and finding the instruments that will win back those audiences and provide a strong, vibrant future for public service broadcasting."
He said: "Just simplifying it to say this is about the Government giving us a cheque would be a false approach to what the challenge is."
When asked if RTÉ needs to address the top-tier salaries in the organisation, Minister Bruton said the broadcaster has to "test that proposition" that some of the key performers are very important in winning audience share.
He said: "if we are seeing significant transformation, I have no doubt they will be looking at that area as well as other areas in seeking to evolve a new future."