Women's pensions are up to a third lower than those of retired men, according to the latest research from the Economic and Social Research Institute.
The study - 'Gender, Pensions and Income in Retirement' - also found that in 2017 while just under 9% of retirees were living in income poverty, over 16% of people of working age and over 18% of children experienced such deprivation.
In 2010, the average man's pension was €433 per week, but it was just €280 for a woman, a gender pension gap of 35%.
Subsequent 2016 data calculated the average EU gender pensions gap at 38%, but 26% in Ireland, meaning women's pensions were still significantly lower.
Data showed that while 55% of men had supplementary pensions beyond the State pension, only 28% of women did.
Women also had shorter careers.
The ESRI has called for policies to raise female employment levels, improve female pension coverage and encourage more continuity in employment through better child and elder care supports.
The ESRI also found that younger people have been worse affected by income poverty than retirees.
We need your consent to load this rte-player contentWe use rte-player to manage extra content that can set cookies on your device and collect data about your activity. Please review their details and accept them to load the content.Manage Preferences
The director of the National Women's Council said the current pension system is really based around wealthy men having a good income in their later years.
Orla O'Connor called on the Government to "wake up" and address the issue.
Speaking on RTÉ's Sean O'Rourke, she said the focus of pension policy is going towards taking up a private pension.
Most women, she said, are more likely to be on low paid and part time jobs and unable to pay into a private pension.
She said that the tax break, encouraging people to pay into a private pension, should be removed and the funds re-diverted into improving the public pension and that ultimately there should  be a universal pension, where there is no qualifying contribution.
Ms O'Connor said women are more likely to take time out to care for children and older relatives and that many then find they do not have enough contributions for the State pension because they have taken time out to provide care.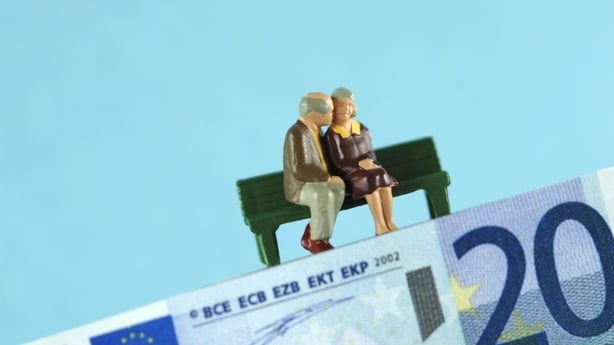 Meanwhile, financial advisor Paul Merriman of askpaul.ie believes there are five simple steps to help reduce the pension gender pay gap.
These include flexible working hours, closing the pay gap between men and women, removing the part-time working penalty, improved planning by women for their retirement and making wise choices when it comes to an employer's occupational pension scheme. 
Paul Merriman also suggested that the pension gender gap is actually worse than the ESRI research shows because of the fact that women live longer than men.
"Irish women live, on average, three years more than men so women actually need more money saved for a comfortable old age and this is simply not happening," the finanical advisor said. 
He urged women to consider taking out a private pension, which can provide greater flexibility throughout their working lives. 
"A 30-year-old woman could accumulate a pension of more than €300,000 across 35 years for the price of a cappuccino a day," Mr Merriman stated.