The Director of Quality Assurance at Tusla has said if the agency had the power of immediate closure it would have used it to shut down the crèches at the centre of an RTÉ Investigates programme.
Brian Lee said the information the agency had before the programme on the Hyde & Seek chain of crèches was broadcast "would not have been at threshold of concern, but based on seeing the RTÉ programme, absolutely it would hit that threshold".
He told the Oireachtas Committee on Children that he had a level of concern after watching the programme.
"I would have that level of concern after seeing that programme and would activate immediately closure powers if that was available to us."
During today's hearing the Child and Family Agency also revealed that critical risks have been identified at 37 other crèches.
Fianna Fáil spokesperson on children and youth affairs, Anne Rabbitte, asked: "So you have had inspections and there breaches within the inspection. You have gone back have gone back and had your second inspection to allow them hit the bar. They have failed.
"How many creches, that to me is on a critical list because they have not reached the bar twice. How many creches in Ireland on full-day childcare are on a critical list here now? Because ... I want Tusla to tell me."
Mr Lee said: "There is 37 on what we consider to be our National Registration Panel, which would be the highest level of concern."
Tusla's Director of Transformation and Policy Cormac Quinlan said the Child and Family Agency is dependent on individuals bringing child protection matters to them and that is how it receives information.
Asked how Tusla would protect workers who reported child protection concerns, Mr Quinlan said the agency provides supports to workers and there is training for staff so that they understand their obligations.
He said: "Everyone has an obligation if we want to truly protect children. Regulations can safeguard children but individuals acting in a protective manner, is what keeps children safe from harm."
In his opening statement to the committee, Tusla's Interim Chief Executive Pat Smyth said the agency relies on good professional practice to keep children safe in crèches.
Mr Smyth was before the committee to discuss the RTÉ Investigates programme 'Crèches: Behind Closed Doors', which went undercover to look at standards of care at the Hyde & Seek chain of crèches in Dublin.
He told the committee that Tusla's Early Years Inspectorate had taken action against the crèches in question prior to the programme being broadcast.
However, he said Tusla had no evidence of the serious child protection concerns or the high degree of serious non-compliance with standards that was shown in the programme.
Mr Smyth said Tusla had concerns regarding repeated breaches of compliance with regulations in all the Hyde & Seek services, which resulted in enforcement actions, including prosecution for an unregulated service.
He said the behaviours displayed are unlikely to be evident during an inspection and that the agency relies on good professional practice and reporting of child protection concerns.
Mr Smyth said revelations contained in the programme on childcare facilities were "shocking, unacceptable and worrying".
He said Tusla received information from RTÉ in July in relation to the quality of care in the Hyde & Seek chain of crèches and that additional action has been taken.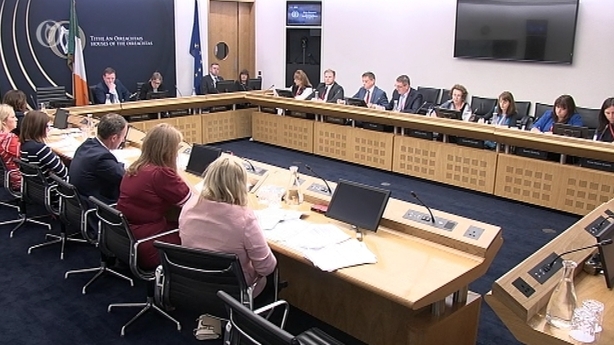 A senior official in the Department of Children and Youth Affairs told the committee that it would not be in the interests of children or parents if Tusla closed down services immediately whenever they observe non-compliance.
In her opening statement, Bernie McNally said that in situations where there is no serious risk to children, helping services to improve is the right thing to do.
Ms McNally said if the department was to cut funding, parents would face increased fees.
She said the department is working to ensure there is robust regulation in the area and it gave Tusla significant new powers in 2016, including the power to refuse registration to a childcare service.
Ms McNally said that since the beginning of 2018, Tusla has prosecuted 22 services and that more prosecutions and de-registrations will follow.
She said the department is satisfied that Tusla was engaged with Hyde & Seek before RTÉ became involved and had already taken the operators to court.
She said that the due process that Tusla follows before a new inspection report can be published, or a service closed, takes time.
In a statement yesterday, Minister for Children Katherine Zappone said she had asked officials to review regulatory powers nationally and internationally to ascertain if Tusla had sufficient powers.
She asked officials in the department to see if there were sufficient powers required to close services immediately where a threshold of poor standards has been crossed.
Minister Zappone also asked officials to consider if legislation needs to be amended to provide for enhanced powers.
Additional reporting Conor McMorrow